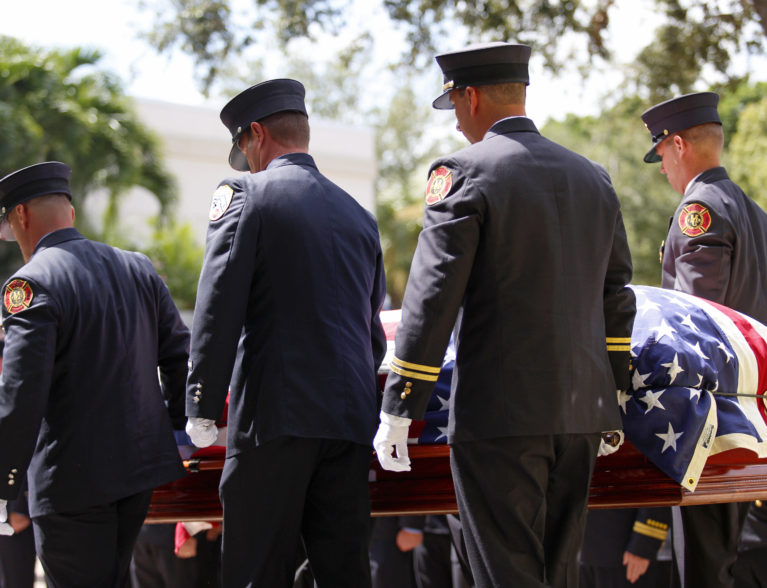 VERO BEACH — A firefighter who worked for fire rescue agencies in Brevard, Martin and Palm Beach counties throughout his career, died last week, according to Thomas S. Lowther Funeral Home & Crematory.
Vero Beach resident Scott Robert Neumann, a hazmat firefighter paramedic, died Sept. 26 after returning home from his Station 16 shift with Martin County Fire Rescue, officials said. He was 52 years old.
"Martin County Fire Rescue is heartbroken with this loss," Martin County Fire Rescue spokesperson Martha Ann Kneiss said. "While our fire family is hurting, we extend our love and support for Scott's family during this incredibly difficult time."
Details on what caused Neumann's death were not available.
A couple hundred people, including uniformed officers, gathered at 1 p.m. Thursday at Community Church of Vero Beach to pay tribute to Neumann's life. Officials from Martin County Fire Rescue, Florida Highway Patrol, Palm Beach Gardens Fire Rescue, Indian River County Honor Guard, St. Lucie County Fire Rescue and more stood outside of the church, 1901 23rd Street.
Firefighters carried Neumann's casket, draped with an American flag, inside the sanctuary.
"We'd like to thank everyone in the fire service and public safety community for their incredible support this week, allowing us to continue to show Scott and his family heartfelt compassion," Kneiss said. "His life and selfless service are woven into the very fabric of the department and our community."
Funeral services will begin shortly for Martin County Firefighter Scott Robert Neumann, who died Sept. 26 after coming home from his shift. Neumann lived in #VeroBeach with his family. The service is being held at Community Church of Vero Beach. #VeroNews pic.twitter.com/ZpdbCxvYt0

— Nicholas Samuel (@JournalistNickS) October 3, 2019
Neumann, of Vero Lake Estates, served his community for nearly two decades. Neumann began his career with Belle Glade Fire Rescue, moved to Brevard County Fire Rescue and was then hired by Martin County Fire Rescue in December 2000, Kneiss said.
Neumann leaves behind his wife, Stephanie; children, Connor, Hayley, and Alicia; three sisters, Tammy Cortez, Robin Cortez, and Dawn Neumann; four nephews, two nieces, eight great-nephews and five great-nieces, officials said.
A private visitation was held from 10 a.m. to 11:30 a.m. Thursday at Lowther Funeral Home.
Photos by Kaila Jones