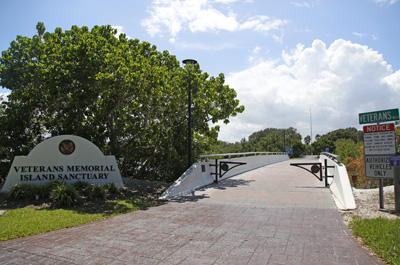 Veterans who attended a recent County Commission meeting left dismayed after a majority of the board declined to help fund repairs to the bridge at Veterans Memorial Island Sanctuary — a serene haven on the barrier island that honors the area's fallen service members.
At a meeting earlier this month, Commissioner Joseph Flescher with the support of Commissioner Tim Zorc asked fellow board members to support allocating $50,000 to help with needed bridge repairs, although the project is already fully funded by the city of Vero Beach. The show of support would be a meaningful gesture to local veterans, Flescher said.
A majority of commissioners, however, disagreed, saying the county has already earmarked more than $200,000 in veterans initiatives, adding the bridge project is in no jeopardy since the city already has the costs covered.
"In my heart, I felt we have an obligation to go forward and contribute," Flescher said, adding "It has nothing to do with jurisdiction. It's about stepping up to the plate."
Several veterans spoke in support of the county contributing to the project to show its commitment to those who made the ultimate sacrifice, including Vero Vice Mayor Tony Young, a veteran who served 30 years in the U.S. Army.
"We're disappointed that Memorial Island wasn't supported, but we also appreciate and in no way feel that the county is not behind the veterans, because the county does support us in so many different ways," Young said, adding he appeared before the County Commission as a veteran, not as vice mayor.
The Florida Department of Transportation, which inspects bridges every two years, identified roughly $110,000 worth of repairs the bridge at Veterans Memorial Island requires. The needed fixes include repairs to corroded areas, pipes and cracks, according to city documents.
The bridge was constructed in 1964 and replaced in the 1980s with a federal grant, Young said. The island memorializes 89 Indian River County service members who died in combat while defending the U.S. The island was purchased by the city in May 1947 and was dedicated as Memorial Island in the early 1960s.