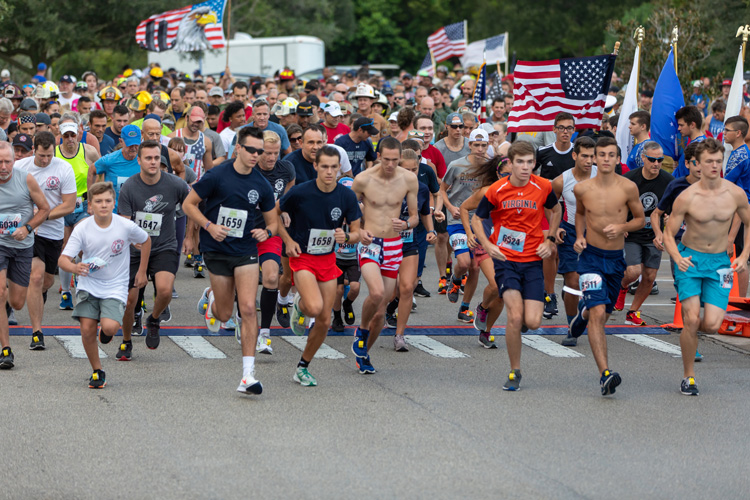 Indian River County residents turned out in full force for the annual Tunnel to Towers Run & Walk Vero Beach last Saturday morning at Riverside Park to affirm, "We Will Never Forget!"
More than 700 participants, many donning full response or tactical gear, rose bright and early to honor the nearly 3,000 men and women who lost their lives on September 11, 2001, during the attacks against the United States by the Islamic terrorist group al-Qaeda, as well as the thousands more who have died from complications following that fateful morning.
In 2002, the Stephen Siller Tunnel to Towers Foundation was established to honor the sacrifices of first responders and military heroes. Siller was one of the many heroic firefighters who made their way to the World Trade Center buildings that morning to render aid. After finding the Brooklyn Battery Tunnel impassable by car, Siller strapped on his gear and ran to the Twin Towers, ultimately sacrificing his life in service to others.
"This is far more than just a fundraiser. This is an opportunity – as each time your foot hits pavement – to move forward, to create momentum, to honor our past and remember the fallen," said Dustin Hawkins, Indian River County Fire Rescue chaplain, before charging attendees to echo the foundation's mantra of honoring those lost by themselves being selfless and in the service of others.
Along a portion of the route at the northern end of Riverside Park, photos and flags were placed in memory of the 343 FDNY firefighters and 71 law enforcement officers who lost their lives on 9/11. Additional flags along the route were representative of all the other lives lost that day in New York, Washington, D.C., and Shanksville, Pennsylvania.
"I want to make sure that not one single life that was lost on 9/11 is forgotten. I don't want one family member to look back and say that their loss was for nothing," said Gina Kempf, Vero's T2T race coordinator.
Race proceeds support first responders and military personnel and their families. Since the foundation's inception, it has donated more than $100 million in aid through a variety of programs, such as assisting with mortgages, building smart homes for the catastrophically injured, and assisting the surviving family members of those who have made the ultimate sacrifice in service to our country.
"September 11 was probably one of the most tragic days for the whole nation, but certainly for the fire service," said Chief Tad Stone, IRC Fire Rescue. "We lost 343 that day at the towers, and we've lost countless others that worked on the pile. My people with the IRCFR know that it's important that we continue to honor everyone that acted that day."
For more information, visit tunnel2towers.org.
Photos by: Denise Ritchie
Click HERE to see more or buy photos