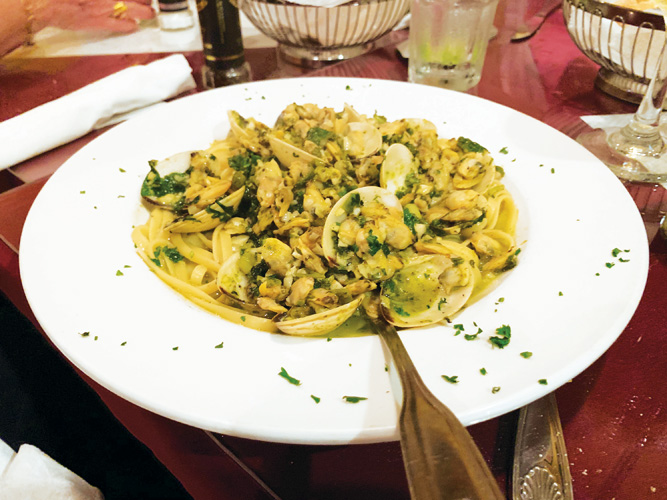 It's that time of year in Vero Beach when restaurants come and go – and this year, there appears to be more turnover than usual.
On 14th Avenue, the unsuccessful attempt to reincarnate Mama Mia's is over, and the space is being readied for the second reincarnation of an oldie but goodie from the '90s, Prima Pizza and Pasta.
Less than a block away, Bistro Fourchette has announced it will not reopen – its talented chef-owner lured away during the summer, we are told, by a "once in a lifetime opportunity" elsewhere.
Over on Royal Palm Pointe, Cajun Cove has closed – its tasty New Orleans-style dishes never quite able to overcome its early high prices.
And on Ocean Drive, at the south end of the building that houses Kilwin's and the Red Onion, a sign announces the impending arrival of Francesca's Italian Kitchen.
What is it about Vero that both of the new restaurants are (surprise) Italian? We keep imagining that one of these days a great Chinese or really good Mexican restaurant will open here, but so far, no such good fortune.
The new Italian restaurants also will find it no easy task wooing customers from some excellent incumbents. There already are no fewer than four well-established eateries serving Italian fare on the island (and I won't even attempt to tote up the number on the mainland).
Last week, for example, we had a very enjoyable dinner with friends at Johnny D's Market and Bistro, a Tuscan trattoria that over the last eight years has become a popular neighborhood restaurant in South Beach.
We've found on a variety of visits that an excellent way to begin an evening at Johnny D's is by sharing several of their starters, so on this evening, we ordered the calamari vesuvio ($14), the tomato caprese ($12.50), and the antipasto della casa ($12.50).
The caprese appetizer was very flavorful, with a balsamic reduction and pesto drizzled over the fresh mozzarella and delicious Roma tomatoes. The antipasto consisted of house marinated grilled zucchini, eggplant, fire-roasted bell peppers, Kalamata olives, mozzarella and tomatoes. Nice. And the vesuvio – calamari simmered in a spicy broth of tomatoes, herbs and hot peppers – delivered quite a zing.
For entrées, I settled on an old favorite, the zuppa di pesce ($26.50). One of my companions ordered the vongole ($20) – little neck clams over linguini in a garlic white wine sauce – and another opted for one of the evening's specials, shrimp sautéed with baby spinach finished in a sherry wine cream sauce ($22).
Two others ordered from Johnny D's popular prix fixe menu, which offers a choice of 16 entrées for $16. One went for the penne carbonara, and my husband chose the eggplant rollatini. The other member of our party decided to have one of Johnny D's brick oven pizzas, which are among the best around.
The highest marks at the end of this evening went to the penne carbonara ("a perfect entrée") and my zuppa di pesce, well-seasoned and chock full of seafood. There was also a special shout-out for Johnny D's warm bread ("the best I've had in this town").
Night after night, a goodly crowd can be found dining in this easygoing Tuscan bistro. The newcomers hoping to compete have their work cut out for them.
I welcome your comments, and encourage you to send feedback to me at tina@verobeach32963.com.
The reviewer dines anonymously at restaurants at the expense of Vero Beach 32963.
Johnny D's Market & Bistro
Dinner Hours: Nightly 5 p.m. to 9 p.m.
Beverages: Beer & Wine
Address: 1409 South A1A
Phone: 772-234-4181