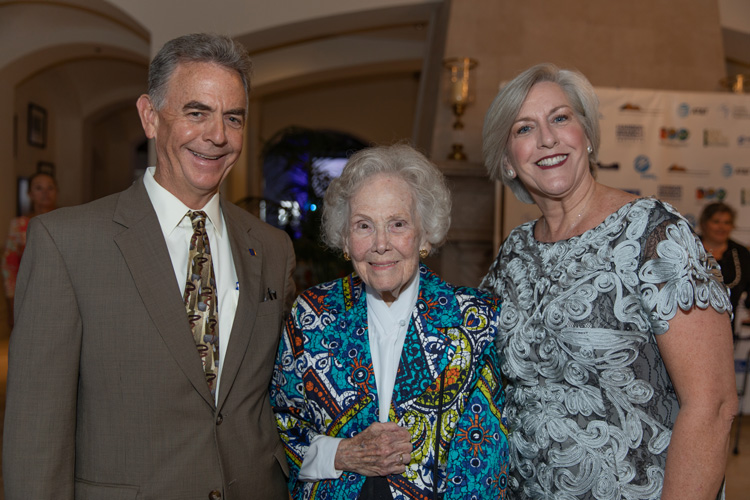 The Indian River County Chamber of Commerce hosted a star-studded evening last Thursday during the 97th annual Awards Dinner at the Grand Harbor Golf & Beach Club.
The room was abuzz as 150 local business leaders enjoyed cocktails and passed hors d'oeuvres while excitedly discussing plans for the upcoming season.
The evening, also considered an annual membership meeting, was called to order by outgoing board chair Robert Paugh, before guests sat to dine on a delicious dinner of risotto stuffed chicken.
During dessert, Dori Stone, IRCCC president, thanked her team, "the heart of the chamber," commenting that they all strive "to deliver excellent customer service not only to our members but the entire community."
Stone highlighted some of the changes made over the past year, which were geared toward moving the chamber forward in its mission of providing leadership for positive economic growth and change.
In addition to offering additional opportunities for members to meet and network, they have upgraded their technology with a more user-friendly website, smartphone apps and increased marketing opportunities.
Stone said that a new Youth Leaders program, to cultivate future professionals through exposure to local leaders, has been added to the already successful Leadership Indian River County program, which to date has graduated 272 professionals.
Also this year, they introduced a Manufacturing Boot Camp, which enabled recent high school graduates to tour local companies and participate in a soft-skills training module, thereby exposing these new members of the incoming workforce to a variety of career opportunities.
"We have had a successful year continuing to make a difference in our community," said Stone. She noted that the chamber saw an increase of 11.8 percent in tourist tax collections, thanks to more than 600,000 overnight visitors who, along with day trippers, contributed more than $511 million in tourist dollars to the county.
The Young Professional of the Year Award, which recognizes a member of the YPN Advisory Committee for services to the community, was presented to Anna Valencia Tillery, vice president of marketing for White Glove Moving & Storage, for her commitment to "getting things done," said Stone.
Brian Holmes, financial advisor with Edward Jones, was honored with the Jack Chesnutt Ambassador of the Year Award. "Holmes has grown up in the chamber and volunteers to reach out to all members," said Paugh.
Introducing Valerie Esposito, marketing specialist with Schlitt Insurance Services, as the Volunteer of the Year Award recipient, Stone said, "Valerie never fails to go the extra mile to ensure that the chamber is well represented; always with a smile and grace."
Denise Boehning, Coastal Waterways Design & Engineering CFM, was honored with an inaugural Established Professional of the Year Award. The award recognizes a member of the Established Professional Network for their leadership in creating networking and educational opportunities.
Boehning's "enthusiasm and networking talents have continued to make EPN one of the leading networking groups at the chamber," said Paugh.
Brian Bauer, president and CEO of CareerSource Research Coast, received the Carolyn K. Eggert Economic Development Award for his leadership and commitment to create and maintain quality, year-round jobs.
"Brian is a strong advocate of the chamber's economic development activities and understands the benefits that good jobs bring to our community," said Paugh.
Vero's "First Lady" Alma Lee Loy was on hand to present the award named in her honor to Bill Penney, president and CEO of Marine Bank & Trust Co., for his community service work, as a brief video chronicled the broad expanse of his volunteer efforts.
Incoming board chair Ross Cotherman thanked Paugh for serving an exceptional two-year term, during which he provided consistency at the helm as the chamber transitioned to new leadership.
For more information, visit indianriverchamber.com.
Photos by: Denise Ritchie
Click HERE to see more or buy photos