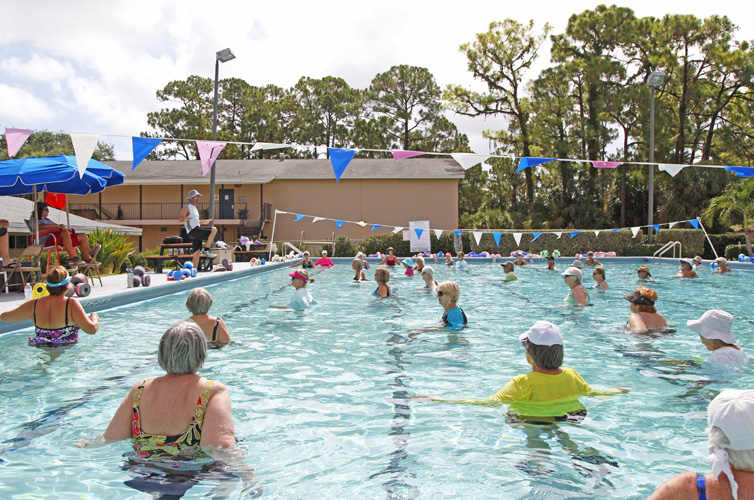 The City Council has reversed its decision to close the money-losing Leisure Square Pool following weeks of public outcry against pulling the plug on the popular recreational facility.
Leisure Square, located at 3705 16th St., runs a deficit of roughly $156,000 annually, according to city officials. It costs about $181,000 a year to operate, but nets only about $25,000 annually.
The council at its Sept. 9 budget hearing unanimously voted to fund the pool for another year while city staffers try to figure out how to curb the red ink. Options include raising user fees, upgrading the record-keeping system to swiftly store more accurate information and examining the parks department as a whole to see where it could run more efficiently.
"Closing this pool right now is jumping the gun," Councilman Harry Howle said. "Figuring out a rate schedule is going to take a year."
An estimated 400 to 500 people use the pool weekly, city officials said. About 220 city residents have individual monthly memberships to the pool and gym that cost $25, while 240 non-city residents have memberships costing $30 a month. The complex, which also offers a gymnastics program, was acquired by the city in the late 1980s.
Finance Director Cindy Lawson identified a possible $30,000 revenue stream that could help shrink the gap. Charging individuals membership fees who now only pay per class could provide a boost, Lawson said.
"I was hoping to close the gap, not the pool," Councilwoman Laura Moss said. "And I think we're getting closer to that."
At a 2020 budget workshop in July, the council decided to close the swimming pool on Jan. 1 and earmark funds to build a skate park there instead. The decision spurred an angry social media frenzy and brought out protesters who packed a previous council meeting to protest the planned closure. A petition to keep the pool afloat garnered nearly 800 signatures.
Pool supporters, who say it provides a vital service and fellowship for senior citizens, crowded council chambers during Sept. 9 budget meeting. They were pleased the council decided to hold off on the closure, adding the city must better market the asset to draw more users and revenue.
"The fight is not over. First there is the hurdle of the second budget hearing and then the year for Leisure Square 'to prove itself,'" resident Ken Daige wrote on the Save Leisure Square Pool Facebook page. "A ridiculous proposal. Recreation is not meant to be a moneymaker, but, we the people can better support this asset!"
The recreation department is anticipated to need $1.7 million in taxpayer funds this budget year. The department generates around $588,000 but costs about $2.3 million to operate.
The final budget hearing, when the council adopts the budget which goes into effect Oct. 1, is Sept. 17 at 5:10 p.m. at City Hall.