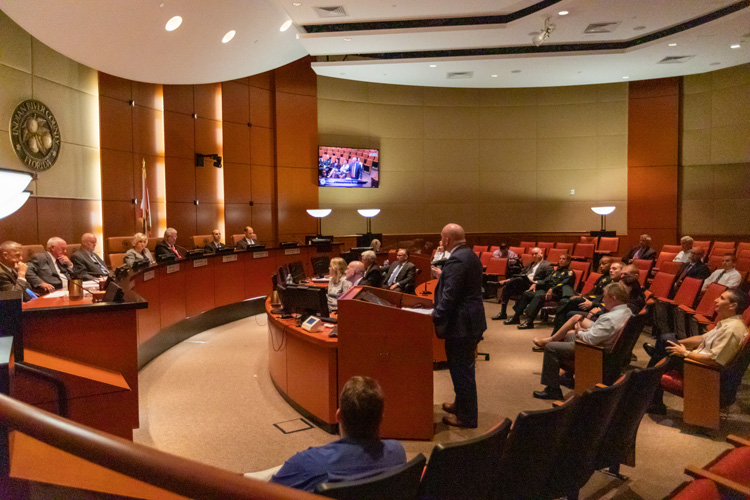 The Indian River County Commission has settled a months-long stalemate between the Sheriff's Office and a union representing nearly 150 deputies, siding with the sheriff's recommended method of disbursing salary increases.
At an impasse hearing on Sept. 13, commissioners voted 3-2 to accept Sheriff Deryl Loar's pay raise distribution proposal over fierce objections from the Indian River County Deputies Association – part of the International Union of Police Associations – which had pushed for what the organization characterized as fairer recommendations from a special magistrate. The dissenting votes belonged to commissioners Joseph Flescher and Zorc, who largely agreed with the special magistrate's suggestions.
"I've long held it to be in the best interest of our community – to include the interest of our public employees – to basically allow the elected constitutional officer to determine how the agency is going run and that will inform my vote today," Commission Chairman Bob Solari said shortly before the narrow decision.
The commission approved Loar's proposal to give a 5 percent increase in base pay for deputies not within 5 percent of the maximum pay grade; give deputies who are topped out a lump-sum increase of $1,500; raise the starting salary to $42,000; adjust the salary for deputies hired after April 30, 2017, from $38,950 to $42,500; and adjust the salary for deputies hired after April 30, 2018, from $38,950 to $42,000. Deputies who are within 5 percent of the maximum pay grade will get a salary bump to the top of the pay grade, according to Loar's plan.
Loar rejected the special magistrate's recommendations because it reduced some salary increases substantially to benefit a small group of employees at the top of the pay range, according to county documents.
"I'm very satisfied with the resolution today," Loar said at the conclusion of the nearly three-hour-long meeting.