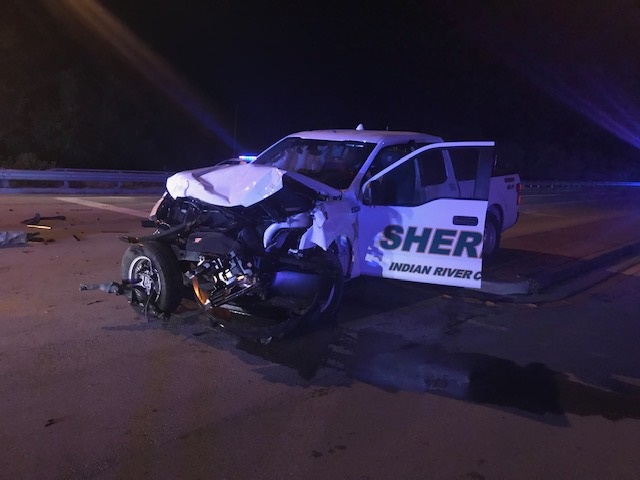 Fire rescue initially said two people were injured. The Sheriff's Office clarified only the Honda SUV driver was hurt. 
INDIAN RIVER COUNTY — A motorist was hurt after he ran a flashing red light and collided with a sheriff's vehicle early Sunday, authorities said.
The two-vehicle crash happened about 12:30 a.m. Sunday in the 5800 block of Oslo Road, Indian River County Fire Rescue Battalion Chief Lonn Benham said. The wreck involved a Honda sports utility vehicle and a sheriff's office pickup truck, Indian River County sheriff's spokesman Maj. Eric Flowers said.
The on-duty sheriff's deputy, who works in the agriculture marine unit, had just closed a call and was traveling westbound on Oslo Road when his pickup was struck by the SUV at the intersection, Flowers said. The crash flipped the SUV on its side, leaving the driver briefly trapped, Benham said.
Fire crews were able to remove the sun roof from the SUV and free the driver. The SUV driver was taken by ambulance to Cleveland Clinic Indian River Hospital with minor injuries, Benham said.
The deputy was not hurt, Flowers said. Flowers said the SUV driver was issued a citation and found to be at fault.
The deputy had a flashing yellow light, which means he had the right of way, Flowers said. The Honda SUV had a red flashing light, which means the driver should have stopped and then proceeded when safe.
The names and ages for the deputy and other driver were not immediately available. The crash remains under investigation.
Photos provided by Indian River County Sheriff's Office