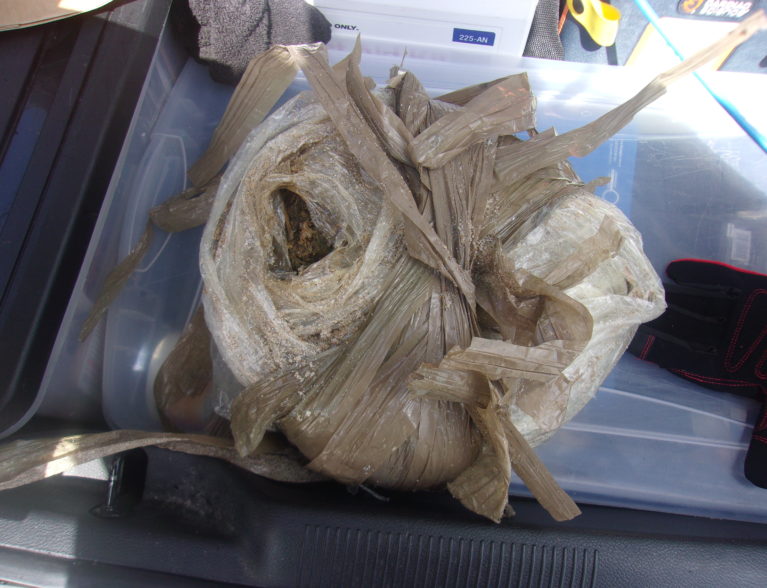 INDIAN RIVER COUNTY — A suspicious package weighing 13 and a half pounds that washed ashore on Friday turned out to be marijuana, deputies said.
"It was wrapped in multiple layers of plastic," Indian River County sheriff's spokesman Maj. Eric Flowers said. "It was soggy, spongy and appeared to have been in the water for some time."
The street value for the 1-foot-long bale – known in Florida as 'Square Groupers' – could be up to $54,000, depending on the quality, Flowers said.
A lifeguard at Golden Sands Park Beach notified deputies about 2:50 p.m. Friday after a person approached them about a suspicious package that washed ashore, Flowers said. A deputy went to the location and found the package about 200 yards south of Treasure Shores Beach Access, which is north of Golden Sands Park Beach and Wabasso.
The deputy cut open the package and saw compressed cannabis inside, officials said. The package was taken to the crime scene lab at the sheriff's office.
The deputy notified the aviation unit so they could send a helicopter to fly over the coastline, in case any more bale packages are spotted on the beach. This is the second time drug packages have washed ashore this year.
In January, a brick of cocaine with a street value of about $35,000 washed ashore at Humiston Beach Park, Vero Beach police said. The kilo of cocaine – which was tightly wrapped in plastic – was brought to the Vero Beach Police Department and picked up by U.S. Customs and Border Protection.
Flowers could not speculate on if the recent package was related to drug smuggling. The Department of Homeland Security picked up the bale from the sheriff's office Tuesday for further investigation, sheriff's Evidence Technician Tom Ammirato said.
Federal workers usually inspect packages for markings to try to determine where they came from. Federal workers will dispose of the bale, Ammirato said.
Ammirato said there has been an increase in contraband washing ashore during hurricane season. There were at least two bales of marijuana that washed ashore during Hurricane Irma in 2017 in Indian River County, he said.
Beachgoers who find suspicious packages should not touch them, but instead call 911. No further details were immediately available.
Photos provided by Indian River County Sheriff's Office