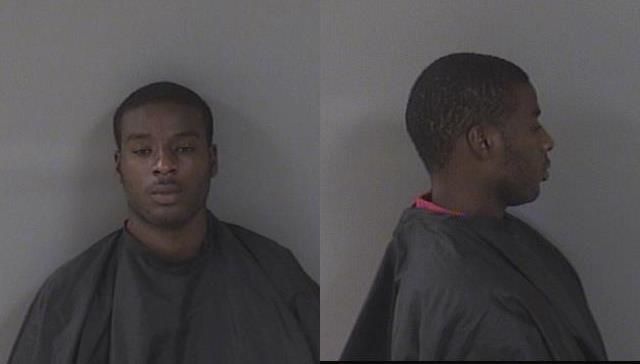 INDIAN RIVER COUNTY — A 21-year-old was arrested after deputies said he fired a .25 caliber gun at his grandfather and then stabbed him in the neck.
The grandfather told deputies Jay Cameron Williams III kicked in the bathroom door and pointed a small, black firearm at him. Williams told his grandfather he was "going to kill him" before he shot multiple times at his relative.
It was unclear if the grandfather was wounded by the gunfire. Deputies said the two fought afterwards in the kitchen, where Williams grabbed a knife and stabbed his grandfather multiple times.
Indian River County deputies arrested Williams on charges of attempted murder, aggravated battery with a deadly weapon and aggravated assault with a deadly weapon. Williams was held Friday at the Indian River County Jail on $300,000 bond.
Williams' booking information showed he lived in the 4300 block of 43rd Avenue. But, his arrest report showed he lived at 28th Court and 43rd Avenue, where the incident took place.
Deputies responded to a disturbance about 4:20 p.m. Thursday at the home. Deputies found the grandfather covered in blood and holding a knife in his hand.9
The grandfather told deputies Williams tried to kill him.
The grandfather ran south from the home while Williams ran north, authorities said. Deputies found the long, silver bloodied knife in the road.
Deputies found Williams, who was not hurt, on 45th Street. Deputies searched the home and found a bullet hole in the bathroom mirror, spent shell casings and the slide of the gun in the kitchen, reports show.
The grandfather was taken by ambulance to Lawnwood Regional Medical Center & Heart Institute in Fort Pierce with serious injuries, fire rescue crews said. An update on the man's condition was not available Friday.
Deputies arrested Williams and took him to the county jail. Williams has an arraignment at 8:45 a.m. November 1, court records show.
This isn't the first time Williams fired shots at someone and threatened to kill them.
In July 2018, Williams was charged with two counts of attempted murder after deputies said he fired two shots at a woman outside his residence after a break-up. The woman was not struck by the gunfire, deputies said.
In that case, Williams was convicted of aggravated assault with a deadly weapon in March 2019, court records show. Two other charges of attempted murder were dropped.