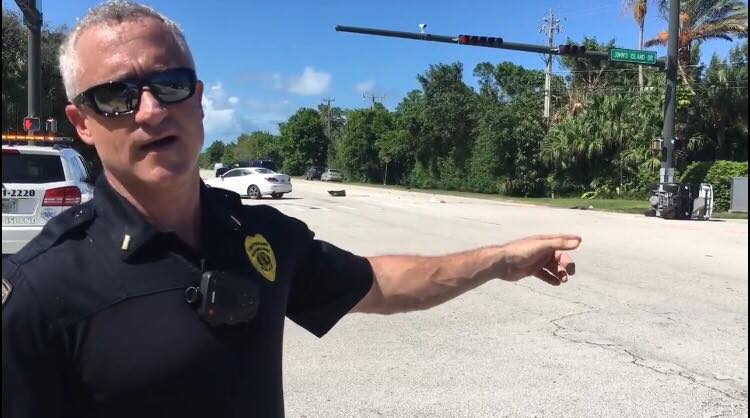 INDIAN RIVER SHORES — An unidentified John's Island Club employee was thrown from a golf cart in a two-vehicle crash Tuesday afternoon, shutting down State Road A1A for nearly two hours, officers said.
The wreck – involving the golf cart and a white Lexus Sedan – happened about 2 p.m Tuesday at S.R. A1A and John's Island Drive, Indian River Shores Public Safety Director Rich Rosell said. The golf cart was traveling westbound on the crosswalk when it collided with the northbound Sedan.
The crash flipped the golf cart on its side. Indian River Shores Lt. Albert Iovino said it appeared the Sedan driver ran a red light, but could not confirm that detail.
Officers were diverting motorists onto side streets away from the wreck, which caused heavy traffic.
*Click the audio icon in the lower right hand corner for sound.
Indian River Shores Lt. Albert Iovino talks about two-vehicle crash Tuesday afternoon in Indian River Shores where a man was ejected from a golf cart. The crash involved the golf cart and a Sedan. The man was flown to a trauma center in Fort Pierce, police said.

Posted by Nick Samuel on Tuesday, September 10, 2019
Pieces of debris – including the hood and front windshield of the golf cart – could be seen laying in the middle of the street. Blood stained the roadway not far from where police marked off the scene.
The driver of the golf cart, a man, was flown to Lawnwood Regional Medical Center & Heart Institute in Fort Pierce with serious injuries, Rosell said. The driver of the Sedan, a woman, was not hurt.
The woman's name was not immediately available. Details on ages and towns where the man and woman live also were not available.
There were no other occupants in the golf cart or Sedan, Rosell said. The roadway reopened about 3:45 p.m.
It was unclear if charges were expected in the incident. Florida Highway Patrol troopers will investigate the crash.