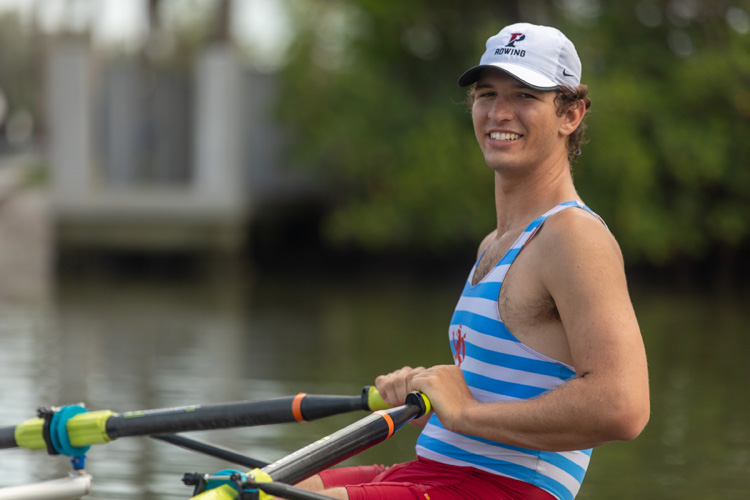 The rowers who first dipped their oars into the C-54 canal in Fellsmere roughly 11 years ago couldn't then have predicted how much the sport would grow in Indian River County.
Today, the countywide program now known as Vero Beach Rowing has grown to include adult and youth programming, Learn to Row events, a Dragon Boat team, summer rowing camps and community outreach programs. Several zestful octogenarians also regularly put in time on the river as members of the club, helping to "make waves" in Vero Beach.
The venture initially began as a way for former master's division rowers to get some exercise while reliving their glory days. They merged forces with an Indian River Rowing Club founded in 2008 by Trina Smith and Jim Ritenour for students at Sebastian River High School.
In 2013 the venue was changed to the waters near the Alma Lee Loy Bridge in Vero Beach, and shortly thereafter a junior rowing program was established for Vero Beach High School students. In 2017, the organization's name was changed to the Vero Beach Rowing Club and the junior rowing program was expanded to include middle and high school students from throughout the county.
While rowing isn't a new sport, it is relatively new to Vero Beach. That may have something to do with the way club members have been rowing double-time in an attempt to catch up with northern programs, where rowing has been popular for decades.
As a result of their efforts, local junior rowers have already begun demonstrating their skills in competitions.
Shotsi Lajoie, who made her rowing debut in 1974 as a member of the first women's crew team at the University of Notre Dame, says children generally don't become rowers until they reach middle or high school because of their bone structure.
"They can't row any earlier, so our kids are on a level playing field if they get proper coaching. They're on the water and they're athletic. They're able to compete with anybody else in the world," adds Lajoie.
The fundraising efforts of Lajoie and others have enabled the ongoing construction of the Community Rowing Center at MacWilliam Park, which is expected to be completed by the end of the year. Along with the new facility, Vero Beach Rowing has built a solid foundation for rowers of all ages and abilities to launch their shells into the Indian River Lagoon and beyond.
Gunther Read, a Penn State University varsity rower and 2016 Saint Edward's School graduate, spent the summer training with Vero rowing director Brian Colgan. The first international racer to come out of the club, Read took fourth place in his division in the Men's 1x, competing for Luxembourg this July in the 2019 Under 23 World Championships in Sarasota.
Read says he fell in love with rowing as a ninth-grader, following in the footsteps of his brother, Jason Read, who set a world record and won a gold medal rowing for the U.S. at the 2004 Olympic Games. A dual citizen of the U.S. and Luxembourg, and the lone member of the Luxembourg Olympic team, Gunther Read hopes to entice other rowers to join him as he works toward the 2024 Olympics.
Grayson Pench was an early VBR junior rower, and did so well that she became the first senior girl to receive an athletic scholarship to Florida Institute of Technology, where she is majoring in biomedical engineering.
Pench and her fellow FIT teammates have brought home quite a few first-place trophies, most notably the team's first-ever win at the Jefferson Dad Vail Regatta, the largest collegiate regatta in North America.
And in August, Kylie Oakes, a senior at St. Edward's, rowed as a member of the USA World Rowing Team and placed third in her category with partner Heidi Jacobson in the 2019 World Rowing Junior Championships in Tokyo, Japan.
"While all this is amazing, the media hype is not what we're all about," says Lajoie. "The building is not necessarily for these elite athletes who are getting all the press right now. The goal is to have people experience a community rowing center."
She believes that in addition to being a place where anyone wishing to pursue rowing competitively can do so, the center will also entice the community at large to enjoy the sport, make new friends and become involved in the athleticism of rowing while reveling in the beauty of gliding across the lagoon. Their hope is that the boathouse will help further their goal of promoting and teaching the sport of rowing to develop physical fitness, personal character and an ethic of cooperation through competitive and recreational opportunities.
Lajoie cites a University of Wisconsin research study which indicated that people near or on the water are happier, adding "it is absolutely beautiful out there, and this is going to give everybody access to the river."
Colgan sees nothing but possibilities on the club's horizon, noting "you're really going to see some explosive growth with both the junior program and the masters."
He expects that the boathouse will also help the club expand its community outreach programs, which currently include the Boys and Girls Clubs and Rowing Beyond Diagnosis. They would like to also add Freedom Rows for U.S. veterans and will adopt other groups to the lineup as dictated by the community.
Colgan adds that he has already begun to have conversations with northern schools – collegiate, high school and even masters programs – that have expressed an interest in coming down for training during winter and spring breaks.
"We're in partnership with the Jackie Robinson Training Center," said Colgan. "They'll provide accommodations and meals, and we'll provide the boathouse and access to the water. We're right in the heart of the Treasure Coast and it's a great location on the Intracoastal."
As Proctor Construction enters the final phase of construction, club members are still fundraising through their Brick Campaign. Donors can have their names added to a Recognition Wall on a Lucite plaque in front of a photo of the lagoon, or can purchase laser-inscribed bricks for a walkway at the front entrance of the boathouse.
Chris Ryan, a board member, boathouse campaign co-chair and rowing devotee since his days at MIT, says he has been deeply moved by the community's support of the facility.
"Most of the donors have some tie to rowing: former rowers, children, grandchildren or a family member that rowed," says Ryan. He says that what took him by surprise was the number of supporters who got behind the venture for environmental reasons.
"They see the benefit of rowing in terms of an environmentally-friendly use of the parts of the lagoon that really don't get used now. We don't need to be in the deep part of the lagoon. It's a great sport for the lagoon, since 95 percent of the lagoon is not deep enough for regular boats. That's the 95 percent that's good for rowing."
Adding that some join for reasons of health and wellness, he shares that one local rower has "rowed himself right out of diabetes. He's become a religious rower and is now completely off all of his meds."
For more information, visit verobeachrowing.org or contact Shotsi Lajoie (shotsi@comcast.net) or Chris Ryan (chris6972@gmail.com) to contribute to the Boathouse Campaign.
Photos by: Kaila Jones
Photos by: Denise Ritchie
Click HERE to see more or buy photos