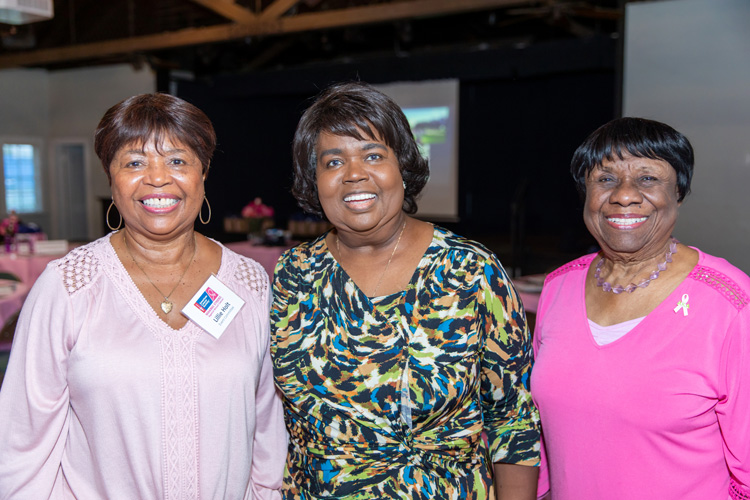 The Heritage Center was awash in hues of pink last Tuesday evening during the Making Strides Against Breast Cancer Kick-Off party. The event was a prelude to the Saturday, Oct. 12, walk at Riverside Park, which annually raises funds for the American Cancer Society's efforts to eradicate breast cancer.
The roar of survivors, caregivers, friends and family members chanting "What Unites Us, Ignites Us!" could be easily heard over a torrential downpour battering the building, as leaders encouraged the crowd of pink pugilists to throw a punch at the devastating disease.
The kick-off event empowers a community of breast cancer warriors through team-building activities geared toward helping them raise funds and awareness. After a buffet dinner, the evening's emcee, Hamp Elliot, called for the crowd to "think pink" as they learned about the critical role the American Cancer Society has played in an effort to wipe out cancer.
"Breast cancer is the most common cancer among American women except for skin cancers. It is the second leading cause of cancer death in American women after lung cancer," said Elliot, highlighting the importance of their fundraising efforts.
Lillie Holt, a 21-year cancer survivor, spoke of her own personal breast cancer experience.
"I am a breast cancer survivor and this is my story," said Holt. She shared that she had always been diligent about getting her annual mammograms, but it was actually during a self-examination – not long after a screening – that she discovered a lump in her right breast.
"I am passionate about raising funds for Making Strides Against Breast Cancer because these funds are used for innovative research; to better understand, prevent, find and treat cancer whenever and wherever they are needed," said Holt, explaining her dedication to the annual event.
This year's crop of 'Real Men' were also revealed – a group of compassionate men who have each committed to raise $2,500 for the 2019 MSABC walk. Among the daring crew willing to demonstrate that 'real men do wear pink' are: Tony Brown, Philip Dasch, Louis Kolbauer, Casey Lunceford, Bob McCabe, Kyle Sanders, Fire Chief Tad Stone, William Talley, Paul Tanner, Vero Beach Vice-Mayor Tony Young, William Watkins, Marty Zickert and Vero Beach Mayor Val Zudans.
Dr. Daniel Glotzer related to the crowd that the "power of the purse" is a meaningful way for the ACS to obtain a stronger voice with lawmakers. Noting that breast cancer touches all of us, Glotzer spoke of his wife's battle with breast cancer, which occurred only six months into their marriage.
Glotzer's grandmother wasn't as lucky, but fortunately, diagnosis and treatment have come a long way since the early 1900s.
"The survival rate was 75 percent in the '70s. Today it is 90 percent," said Glotzer. Putting his 'money where his mouth is,' Glotzer announced that he would match the donations of 30 people who joined a Power of the Purse campaign during the kick-off event.
The mission of the American Cancer Society centers on saving and celebrating lives while fighting for a world free of cancer. Funding supports cancer research, patient support, prevention and education, as well as breast cancer detection and treatment. Through research and action, the ACS has contributed to a 27 percent decrease in the overall U.S. cancer death rate since 1991. That translates to 2.6 million cancer deaths that did not occur during the 20-year time period.
For more information, call 772-249-1911 or visit MakingStridesWalk.org/indianriverfl.
Photos by: Denise Ritchie
Click HERE to see more or buy photos