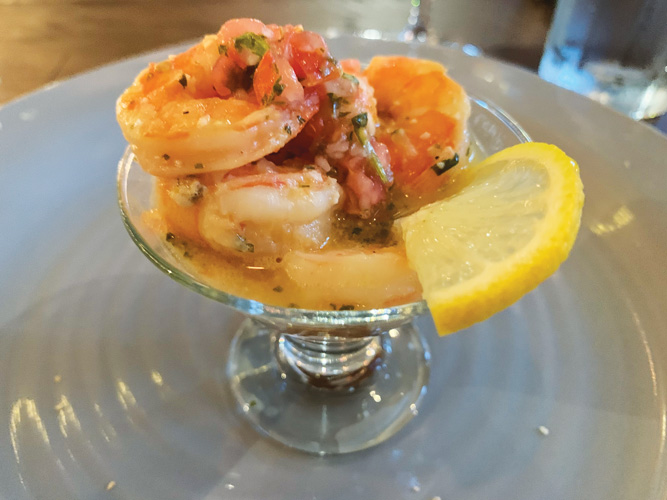 Last week, one of Vero's favorite chefs, Michele Hennessey, held the first Chef's Table at her latest culinary venture, the Sun Market Sauce Company.
The Sun Market, which occupies the Old Dixie Highway space that once housed the Patisserie, has been open a few months selling take-out dishes and serving soup-and-sandwich lunches, but the Chef's Table marked its first venture into the haute cuisine world that saw Hennessey win the Vero's Top Chef contest a decade ago.
Twenty diners – a near sell-out of the attractively redecorated space – gathered around long wooden tables that had been arranged in a horseshoe configuration for the evening. Waiting for the "1970s Style Chef's Table" to get underway, longtime fans of Chef Michele shared memories of dining at her old River Grille in Sebastian with newcomers to Vero,
At around 6:30, a couple of servers emerged from the kitchen with an amuse bouche. The spoons held a mélange of golden kiwi, medjoul date broiled with triple cream brie, salted pistachios and a long black grape. A most interesting and tasty start.
Next came the first course, gulf shrimp served in an amber craft beer butter sauce. While the seasonings nicely complemented the shrimp, and the beer sauce gave the appetizer a little extra flavor, the shrimp had been cooked just a bit too long.
The second course, however, was a very refreshing tableside Caesar salad prepared with a homemade dressing and of course croutons. Excellent.
Then came the entrée, steak Diane. In the classic preparation, a center cut filet mignon is sautéed table side. With that a bit hard to achieve in a group setting, on this occasion a simple pan sauce was prepared at the front of the room from accumulated steak juices, laced with brandy, set aflame, and poured over the steak. Delicious.
Finally, the dinner concluded with another blazing throwback dish, bananas Foster. Originally created at New Orleans' Brennan's Restaurant in the 1950s, this dessert starts with bananas sautéed in a rum-infused caramel sauce, which are flambéed and spooned over vanilla ice cream.
Chef Michele told us she intends to do a couple of Chef's Tables a month starting in the fall, each with a different theme and with prices ranging from $40 to $80 per person depending on the menu. The tab for the "1970s style" Chef's Table was $65 per head, not including tip, with a drink pairing menu (or simply wine) available at an extra charge. Our guess is that future Sun Market Chef's Tables will benefit from the experience gained in this maiden effort. But all in all, 20 lucky diners appeared to have a most enjoyable evening – and it certainly is great having Chef Michelle once again bringing her talents and high culinary standards to a Vero restaurant kitchen.
I welcome your comments, and encourage you to send feedback to me at tina@verobeach32963.com.
The reviewer dines anonymously at restaurants at the expense of Vero Beach 32963.
Sun Market Sauce Co.
Hours: Tues. to Fri., 11 a.m. to 4 p.m.
Beverages: Beer & Wine
Address: 1910 Old Dixie Highway, Vero Beach
Phone: 772-925-1139