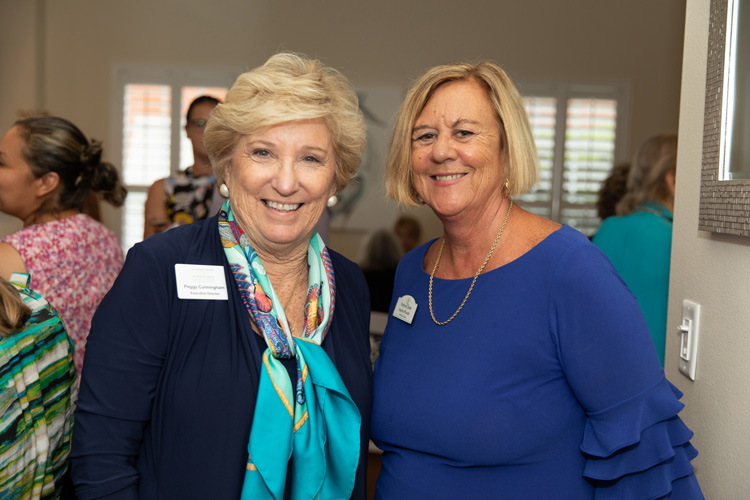 The lyrics to the popular Nancy Sinatra song from the 1960s, "These Boots are Made for Walkin,'" came to mind as team leaders, committee members and donors of the Alzheimer and Parkinson Association of Indian River County gathered last Wednesday afternoon for a Walk to Remember Kickoff event.
The kickoff celebrated supporters as they metaphorically laced up their shoes for the 16th annual Walk to Remember, taking place Saturday, Nov. 9., at Riverside Park.
While the song claimed, "These boots are made for walking. And that's just what they'll do. One of these days these boots are gonna walk all over you," the goal of the Walk to Remember is to raise funds in an effort to "walk" all over neurological disorders.
The local nonprofit provides free services to Indian River County residents affected by memory or motion disorders through various support groups, social programs and education, advocacy, support, empowerment and research connections.
A factor in the popularity of the organization is that it offers programming for both patients and caregivers. Their belief is that it is vitally important that caregivers are provided with the necessary respite in order to remain healthy in body and spirit so they can provide the loving care their loved ones deserve.
"This year's goal is ambitious," noted Judy Lemoncelli, director of development and communications, citing their $150,000 goal. "Every dollar raised for the walk stays local. We are the only local, comprehensive resource that serves families in need with Alzheimer's and Parkinson's."
Regency Park Independent Living/Harbor Chase Assisted Living and Memory Care graciously hosted the affair in one of their villas and started things off with a generous $5,000 contribution.
Guests toured the villa while enjoying refreshments and hors d'oeuvres as well as soothing music played by harpist Barbara Brundage.
Longtime event chair Tiffany Tripson, nursing supervisor at Primary Care of the Treasure Coast's Sebastian office, said she became involved with APAIRC after caring for a patient with Alzheimer's.
"This is something dear to my heart. I had a patient that didn't have any family several years ago. If I had known about the Alzheimer's & Parkinson's Association, it would have been a lot easier on me. They have a lot of great programs for both the patient and the caregiver."
"Our mission is the quality of life for these families," said Peggy Cunningham, executive director, to the crowd of supporters. "I don't think that there is a community around that can say that they've got this kind of support from so many businesses for a single purpose. We are touched every day by your generosity and your enthusiasm."
The work of the organization is personal for board chair Bruce McEvoy, who suffers from Parkinson's. He had initially been confronted with the lack of services and information available to people dealing with neurological disorders.
"About a decade ago, we came to the realization that neurological diseases were getting out of control. The federal government wasn't spending or investing anything in these diseases. We were left behind and realized that we needed to educate people," explained McEvoy.
"We get people calling that are desperate. I am learning myself. Mostly, you need support. You need someone to tell you that you are doing all right."
In addition to Alzheimer and Parkinson patients, the organization offers services to individuals with other neurological disorders, essential tremor and stroke victims. The Respite Program enables patients to enjoy physical and mental activities in a social environment while affording respite to their caregivers. Other programs include memory screening, a Virtual Dementia tour, support groups, movement and exercise, counseling, training and education.
For more information, visit walktoremembervero.org.
Photos by: Denise Ritchie
Click HERE to see more or buy photos