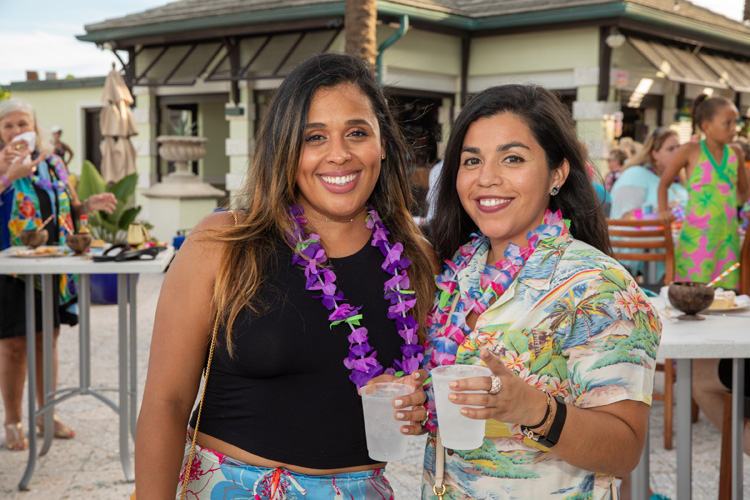 Tropically clad guests said aloha to summer during the 4th annual Hawaiian Luau at Heaton's Reef at Vero Beach Hotel and Spa last Friday night. Guests gathered at the oceanside hotel to say mahalo (thank you) for a safe and happy summer.
After donning kahiko (traditional) Hawaiian leis, guests were swept away to an island paradise as they sipped on the evening's signature drink – Tropic Like It's Hot – as balmy breezes, the smell of the salty ocean and tropical music, accompanied by the sound of waves crashing along the shore, set the tone for an evening of island revelry.
Guests enjoyed ono (delicious) tropical delights as they lounged poolside, including Huli Huli chicken satay, ahi poke, ramen noodle salad, island-style fritters, coconut cake and the evening's featured guest, a whole Kahlua pig roasted to perfection.
The hotel hosts two signature events each summer that attracts a full house year after year and rain or shine: the White Party to kick off the summer, and the End of Summer Luau to close it out. Folks kicked back, sipping drinks from coconuts and basking in the last rays of sunshine as they envisioned lying on the sandy beaches of Hawaii before returning to their hectic lives now that the kids are back in school.
Attendees were a harmonious blend of locals and malihinis (newcomers) staying at the hotel. Locals mingled and caught up with friends, sharing favorite summer memories while hotel guests imagined what it must be like to live in a paradise like Vero Beach as they danced under the stars.
"Vero Beach is a close-knit community," said Liz Rincon, Kimpton Florida director of public relations. "We wanted to give guests and Vero Beach residents a way to celebrate the end of the summer season before life gets hectic again."
For a schedule of upcoming events, visit cobaltrestaurant.com.
Photos by: Denise Ritchie
Click HERE to see more or buy photos