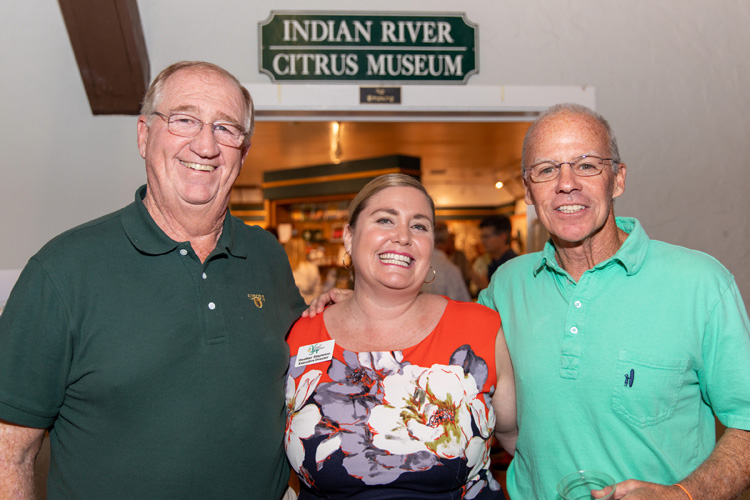 Citrus enthusiasts got juiced – that's orange juiced – last Thursday evening during the second annual Night at the Indian River Citrus Museum at the Heritage Center. From oranges to grapefruits and every variety in-between, the evening overflowed with deliciousness.
The history of citrus in Indian River County is a juicy one which guests were able to learn more about in the Indian River Citrus Museum adjacent to the Heritage Center. Artifacts on display trace the industry from the 16th century, when it's believed Ponce de Leon introduced the seeds of the succulent, pulpy fruit to Florida, and through to the 1960s, when Indian River Citrus garnered world-renowned recognition for its flavorful goodness.
"Indian River fruit can only be grown and harvested in a thin 200-mile stretch of land near the Indian River Lagoon, from just south of Flagler Beach to West Palm," explained Heather Stapleton, Vero Heritage executive director. "Only fruit from this area may be legally referred to as 'Indian River Fruit.' Just like champagne can only come from the Champagne region of France. Our fruit is that special."
Stapleton noted that of the approximately 4,000 guests that visited the Indian River Citrus Museum this past fiscal year, most aren't aware of that important distinction. "Night at the Citrus Museum provides the Heritage Center with an opportunity to celebrate Indian River Citrus – an important part of our local history," she continued.
The scent of orange blossoms filled the air as guests viewed George Hamner of Indian River Exchange Packers vintage Indian River Citrus labels – the most extensive private collection in the state, shopped citrus-themed items from local vendors, chatted with Miss Florida, who just happens to also have worn the crown as Miss Citrus, snacked on citrus-infused beers and hors d'oeuvres while jamming to the toe-tapping sounds of the bluegrass music of the JAM (Just Add Music) band.
The much-anticipated unveiling of the Vero Heritage Citrus Label Tour squeezed out quite a bit of attention from the crowd. The project will showcase "larger than life" citrus labels around the county.
The citrus tour is being funded by private donors and a Tourism Development Grant. While the project is still in the planning stage guests were able to view a prototype of the label sign and learn more about the project. Think art in public places meets cultural heritage endeavor. Each label will have a QR code which links to information about the citrus labels and interviews with local citrus legends.
On Sept. 21 and 22, the Heritage Center will host the Vero Beach Bridal Show and Tour. For information, visit veroheritage.org.
Photos by: Denise Ritchie
Click HERE to see more or buy photos