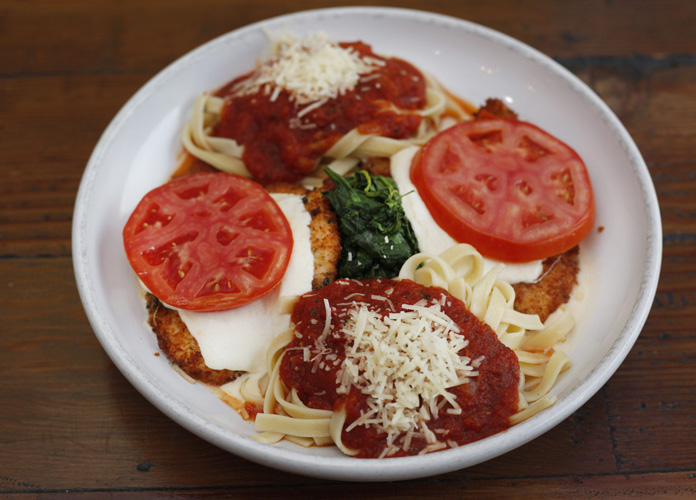 Over the past decade, I have emerged a number of times from a hole-in-the-wall storefront on Royal Palm Pointe carrying home one of the better pizzas to be found in Vero.
But it wasn't until recently that my husband and I decided to sit down at a table in Pizzoodle's small but newly refurbished dining area to try a few of this "red sauce" eatery's pasta and parm dishes.
Now we're asking ourselves: What were we waiting for? The dishes here are not "regional Italian" or "authentic Italian." This is good "honest" Italian-American cooking – Tony Soprano Italian. And the execution (maybe I shouldn't use that word) of these dishes is great!
On a visit last week, we stopped by with a friend around 8, and our latish arrival enabled us to avoid a wait to be seated (Pizzoodle's is frequently crowded).
We wasted no time in asking our server Kristell to bring us a half dozen of Pizzoodle's addictive garlic knots with melted cheese ($3.50), and we then ordered two appetizers to share: fried calamari ($9.95) and stuffed mushrooms ($8.95).
The fried calamari were among the best I've had recently, very lightly breaded, tender and accompanied by a delicious homemade tomato sauce. The mushrooms were huge, stuffed with sausage, mozzarella and asiago cheese, and served on a bed of the tomato sauce. A large and very hearty app.
Then for main courses, my husband chose the agnolotti ($15.95), and our companion opted for the meat lasagna ($15.95). I decided on this visit to have an old favorite, the veggie pizza ($20.95.) Excellent, as always.
The agnolotti – ravioli-like pasta filled with a mix of ricotta cheese, ground veal and spinach – were served with asiago cream and topped with fresh tomato sauce. Luscious. Our companion also gave high marks to her lasagna, which she said was perfectly balanced between the meat sauce and the pasta.
On a previous visit, I enjoyed the eggplant parmigiana ($12.95). Forget about the heavy, greasy eggplant lost in deep-fried breading all-too-frequently found at "red sauce" joints. This eggplant was very lightly breaded and the dish was tasty.
The only pasta dish here that my husband thought a bit disappointing was the spaghettini and sausage. Though the pasta was tasty in its housemade tomato sauce on a bed of asiago cream, he thought the dish would have benefited greatly from more peppers.
The portions are large at Pizzoodle's. Not only did we forgo desserts, but on both recent occasions wound up taking leftovers home. Dinner for two with a couple of glasses of wine, sharing an appetizer, is likely to run $70 to $90 before tax and tip.
Good pizza, good pasta, good parm – a lot of good "honest" food is to be found at Pizzoodle's.
I welcome your comments, and encourage you to send feedback to me at tina@verobeach32963.com.
The reviewer dines anonymously at restaurants at the expense of Vero Beach 32963.
Pizzoodles
Hours: Tuesday to Friday, 11:30 a.m. to 9 p.m.; Saturday and Sunday, 4 p.m. to 9 p.m.
Beverages: Beer & Wine
Address: 56 Royal Palm Pointe, Vero Beach
Phone: 772-567-4160
Photos by: Kaila Jones
Click HERE to see more or buy photos