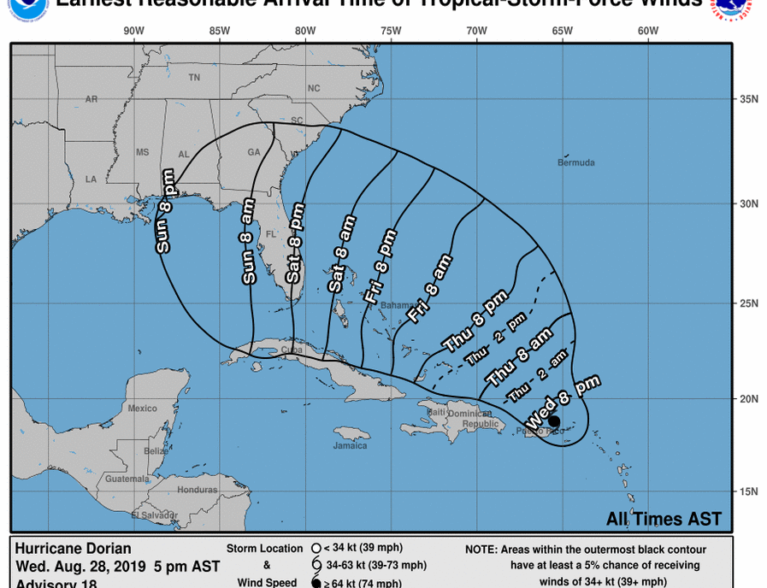 A more accurate forecast cone for the probable path of Hurricane Dorian
INDIAN RIVER COUNTY — Gov. Ron DeSantis issued a state of emergency for several counties -including Indian River – ahead of Hurricane Dorian, expected to sweep the area Saturday with heavy winds and rain.
"The storm continues to stay tight and strong," Tad Stone, Director for the Indian River County Emergency Services Department, said during a tele-conference Wednesday. "We've met with school board, fire rescue and law enforcement. We are finalizing shelter plans and are planning for the worst."
DeSantis issued the executive order Wednesday afternoon for the state of emergency. Stone said the county will likely issue its own declaration of a local emergency by Friday.
"We are a day ahead of the planning process," Stone said. "Things appear to be going very well."
As Hurricane Dorian draws closer day by day to Florida's east coast, residents began to flock to stores to buy items such as water bottles, non-perishable food and gasoline. Dorian was about 750 miles southeast of Vero Beach Wednesday evening, officials said.
Any local evacuations would begin Saturday morning, Stone said.
"Residents should already have a plan together on whether they will evacuate or not," Stone said. "We want everyone to stay aware of what's going on."
Stone said emergency service officials requested the state to deliver pallets of bottled water from Orlando to Indian River County. Stone said the bottled water should arrive sometime Thursday.
"The state has semi trucks full of bottled water in Orlando," Stone said. "It takes any given three days or so to set up points of distribution. Residents should (already) be self sufficient for three days."
Hurricane Dorian strengthened from a tropical storm to a category 1 hurricane Wednesday afternoon, reaching maximum winds of 80 mph, forecasters said. The hurricane is slowly making its way toward Florida's east coast.
As residents prepare for Hurricane Dorian – expected to soon strengthen into a category 3 hurricane – emergency service officials advised citizens to make preparations for a possible evacuation. Dorian continues to swirl northwest across the North Atlantic Ocean.
Stone said the emergency department also asked the state for extra public information officers to help deliver out information to concerned residents and others about Hurricane Dorian.
Maj. Eric Flowers, spokesman for the Indian River County Sheriff's Office, said the agency met with Emergency Operations Center officials Wednesday morning and will have another briefing at the center Wednesday evening. The center, located at 4225 43rd Avenue, will be in partial activation Friday morning, Flowers said.
"We will continue to monitor the storm to determine what our response will be," Flowers said. "It's still too far out for any further action at this point."
It was unclear if any schools or government offices would be closed next week because of Hurricane Dorian.
Weather officials said Indian River County could see a 70 percent chance of rainfall. If Dorian makes landfall as a category 3 hurricane, residents can expect flooding rain, damaging winds and a storm surge, which is the dangerous rising of water caused by storm winds.
Stone said the county will not be handing out sand bags to residents to minimize flooding to homes.
Hurricane Dorian was gradually moving away from the Northeastern Caribbean Sea about 5 p.m. Wednesday and pushing further west into the Atlantic Ocean, gaining wind speeds in the process, according to the National Hurricane Center. The hurricane was moving northwest at 14 mph.
Indian River County will start experiencing possible tropical storm conditions Saturday night, forecasters said. The day will have a 60 percent chance for rainfall; showers and thunderstorms were expected after 9 p.m.
Sunday will have possible hurricane conditions, meteorologists said. Showers and a possible thunderstorm were expected throughout the day with a 70 percent chance of showers.
Saturday and Sunday will have temperatures in the high 80s and mid 70s, forecasters said. East winds were expected to be between 5 to 20 mph, with gusts as high as 25 mph.
Thursday, the public works department will begin removing traffic signals that are hanging from span-wire support systems, emergency service officials said. At least one signal head will stay in place for each direction of the intersection.
"This is done to prevent the signals from becoming projectiles during high winds," emergency service officials said. "The signals will be reinstalled as soon as possible by public works staff after tropical storm force winds have diminished."
Motorists should use caution when traveling through these intersections.
Hurricane Wind Categories
Winds from Dorian would need to reach at least 96 mph to become a category 2 hurricane, meteorologists said.  Winds would need to reach at least 111 mph to become a category 3, a major hurricane.
The hurricanes in categories 1 – 3 can damage roofs, shingles, vinyl sliding and gutters, officials said. Hurricanes can also snap large tree branches, topple trees and damage power lines, which could cause outages lasting several days.
Hurricanes that reach category 4, at least 130 mph, or 5, at least 157 mph, are considered "catastrophic," according to weather officials. Catastrophic hurricanes can destroy homes and cause power outages lasting several weeks and possibly months.
Hurricane Irma 2017
The last time Indian River County experienced impacts from a major hurricane was Sept. 2017, when Hurricane Irma made landfall. Irma, a category 5 hurricane with 180 mph winds, caused thousands to lose power to their homes, created flooding and also lead schools and government offices to close for several days.
Even though Irma left significant damage to roads, harbors and airports in the West Indies and the Caribbean, the hurricane did not heavily destroy structures in Indian River County. The storm shifted further west, pushing the county out of its direct path and only leaving behind torrential rain and tropical storm force winds.
Preparing for Hurricane Dorian
Monitor updates from National Hurricane Center along with Indian River County Emergency Services Department for updates on Hurricane Dorian. Watch for weather advisories, watches and warnings.
Have an emergency kit including water, non-perishable food, can opener for food, radio, flashlight, first aid kit, extra batteries, whistle to signal for help, local maps, cell phone with chargers and a backup battery.
Have a family emergency plan for hurricane season, which runs from June 1 to November 30 each year.
Cover up all of your home's windows with storm shutters or plywood.
Aquatic Pools of the Treasure Coast, Vero Beach, announced on its Facebook page it was offering storm shutter service and pool maintenance ahead of the hurricane. Those interested should contact the company at 772-713-4717
Follow instructions issued by local authorities
Residents who want emergency alerts on updated weather and shelter activations can sign up through the Indian River Emergency Notification System.
Residents can call Indian River County's Emergency Information Center hotline at 772-226-4000 for updates on Hurricane Dorian. EIC operators will be available to answer questions from 8 a.m. to 8 p.m. starting Thursday.