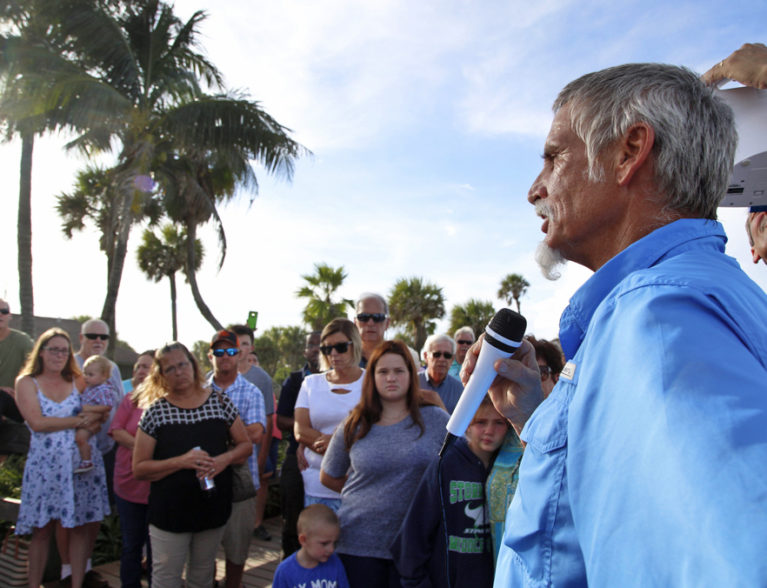 With few clues and the Coast Guard calling off the search Thursday for two firefighters lost at sea, family and friends said they are not giving up on looking for the boaters.
"We believe Justin (Walker) is on that boat," said Sheila Walker, mother of Justin Walker, one of the missing men. Her voice calm and reassured, she told gatherers Friday at a prayer vigil, "We believe he is surviving and that he's coming home. God will deliver him to us."
The mysterious disappearance of Walker, 33, a Vero Beach native, and Brian McCluney, from Cocoa, prompted a massive multi-agency search ever since the men left Port Canaveral for a fishing trip the morning of August 16, and never returned. Walker is a firefighter out of Fairfax County, Virginia, and McCluney is a firefighter out of Jacksonville.
Thursday, at sundown, the active search was cancelled, but that has not stopped family or the community in their quest to "bring them home."
"We back each other up. We don't give up on each other," said Walker's cousin Rebecca Buhler, 39, Vero Beach. "(Walker) has a very strong family bond. We have strong faith in God. We know he's got our boy."
A prayer vigil for the men, who attended the fire academy together, was held at 6 p.m. Friday at Jaycee Park, 4200 Ocean Drive, Vero Beach. An American flag was raised atop a fire truck ladder as dozens flocked toward the dock area.
Tiny American flags lined the dock as residents gathered around Sheila Walker and Pastor David Foster, of Tabernacle Ministries. Sheila Walker described her son as a "beautiful young man with a big heart."
"Everybody that meets him loves him. He's the life of the party," Sheila Walker said.
Walker's family, including nieces, uncles, aunts and friends, were in attendance; his siblings were not able to make it. Walker's father, Rick, was still in Charleston, South Carolina, helping with search efforts.
Sheila Walker, mother of Justin Walker, talks about the outpouring of support to find her son #JustinWalker, and his friend #BrianMcCluney, two firemen missing at sea since August 16. #VeroNews pic.twitter.com/DkHVC7Mrpy

— Nicholas Samuel (@JournalistNickS) August 23, 2019
Buhler read a poem Walker had written in 2008 entitled 'The Stormy Sea.' In the poem, Buhler read, "She's a stormy sea, miles of violent waves, thunder and lightning. God, please give me the patience and wisdom so that her treasures and secrets will one day all be mine."
Coast Guard calls off search
Walker's family said they were heartbroken after the Coast Guard search was suspended Thursday evening.
"The Coast Guard can only do so much," Walker's wife, Natasha, told News6WKMG while clutching a bible. "We are not giving up. I can't give up. The community hasn't given up on me either. They inspire me."
Walker and McCluney left about 11 a.m. August 16 on a 24-foot boat out from the Port Canaveral Recreational Boat Launching Facility, U.S. Coast Guard officials said. The men were headed toward 8A reef, a fishing spot, authorities said.
A family member notified the Coast Guard when the firemen did not return back later that evening as expected. The Coast Guard, law enforcement agencies, fire rescue departments, the Florida Fish and Wildlife Conservation Commission, the U.S. Navy and U.S. Customs and Border Patrol along with volunteers searched nearly 150,000 square miles offshore – from central Florida up to New England – for the men.
Authorities used boats, helicopters and military aircrafts to try to locate the firefighters.
Only one clue – McCluney's gear bag – was found Monday 50 miles off the coast of St. Augustine by a boater, Coast Guard officials said. The families of Walker and McCluney asked the public for prayers as they continued to search for their loved ones who vanished at sea.
Passion for Dancing
Walker loved to dance.
Buhler said her younger cousin took dance classes at Palm Beach Atlantic University in West Palm Beach. McCluney's wife and high school sweetheart, Stephanie, also attended those dance sessions, Buhler said.
"He is always positive and fun to be around," Buhler said. "He didn't care what other people thought."
Walker and Stephanie McCluney also were both professional dancers for the Demetrius Klein Dance Company in West Palm Beach. The two performed for the company from 2004 to 2009, officials confirmed.
The company left a message Sunday on its Facebook page that read, "Our dance family is watching closely, praying hard and eagerly awaiting the safe return of our friends Justin Walker and Brian McCluney, who have been lost at sea since Friday."
Video of Justin Walker solo dance, courtesy of Demetrius Klein Dance Company
We finally found this video of Justin dancing this solo. Not only is he a gorgeous dancer, but the words to this song… It's just hard to find words to express how special it is to have this video and to share it as we pray and watch as the search and rescue for Brian and Justin continues. Some background… Brian's wife Stephanie also danced in this piece. This specific video is from 2006. And Aimee, who comes into the shot at the end of his solo, is who found the video and got it to us, all the way from Panama, so it can be shared. Father, please carry them back home, back to the shore, back to the arms of their family! Carry them! Rescue them!"Father won't you carry me For the ocean is wide Father won't you carry me For my boat is so small.Father on a moonless night Help me cross the stormy sea. Out here in the darkness Help me find my way back home…Father won't you carry me…"- Grace, from The Prayer Cycle, by Jonathan Elias, featuring James Taylor Choreography Demetrius A. KleinCourtesy of Demetrius Klein Dance Company – dkdc/DIY Projects#bringthemhome #findbrian #findjustin #rescuethem #carrythem

Posted by Kristen Vencel on Wednesday, August 21, 2019
Community Involvement
Walker attended Tabernacle Ministries while he was living in the Vero Beach area before moving to Virginia, Foster said. Foster said he has known Walker since Walker was in 6th grade.
Walker participated in team plays at the church and was involved in youth groups. Foster said he conducted the marriage ceremony for Walker and his wife in Vero Beach.
Walker attended Citrus Elementary School, Vero Beach High School and is a 2004 graduate of Indian River Charter High School, according to the School District of Indian River County.
Buhler said Walker moved to Virginia to be closer to his cousin, Joe Futch. In Virginia, Both Walker and Futch are members of the Strength and Honor motorcycle club, a non profit public safety organization.
Walker's motorcycle friends called him 'Zuko,' Buhler said.
One Last Ride
Buhler said the boat McCluney and Walker left in belonged to McCluney's father, who died last month. McCluney's family was preparing to sell the boat, which had mechanical issues in the past.
"They decided to take the boat out one last time before they sell it," Buhler said. Stephanie McCluney told other news outlets that Walker and McCluney would usually go on fishing trips when Walker comes to visit.
How to help
Those who want to donate toward search efforts for McCluney and Walker can visit the Strength and Honor Motorcycle Club website. Palm Beach Valley Outdoors Bar & Grill in Ponte Vedra Beach, International Marine in Boynton Beach and 1-800-BOARDUP in Jacksonville are offering a total of at least $30,000 to whoever finds the men.
Walker has two sisters, Jessica Bergstresser and Misty Patterson, and a brother, Jerrad. Bergstresser is a fourth-grade teacher at Imagine of South Vero.
Walker's parents and siblings all still live in Vero Beach. The family has faith they will see Walker again.
"There's still hope. There are multiple people still out there searching in boats and planes," said Walker's aunt Diane Henderson. "We're not giving up."
Photos by Kaila Jones and Nick Samuel