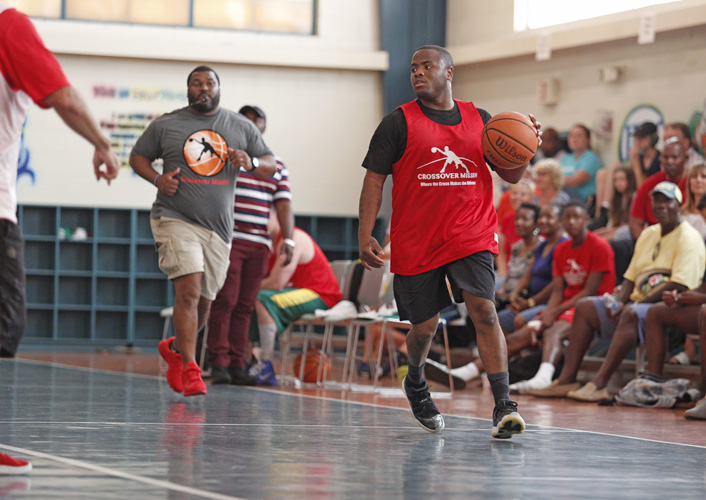 Crossover Mission youth basketball players left it all on the court last Saturday during games preceding the fifth annual Sheriff Exhibition Basketball Game held in the Gifford Youth Achievement Center gymnasium.
Before the Indian River County Sheriff's Office team suited up in a challenge against Crossover coaches and volunteers, Coach Larry Staley and Coach Libby Page were honored as this year's recipients of the Crossover Mission Unity Award for their unwavering support of youth in the Gifford community through athleticism for more than 30 years.
Staley and Page were the fourth recipients of the award and joined an impressive crew, including John and Stephanie Smith, Freddie Woolfork and the Community Church of Vero Beach.
Page and Staley developed programs for Gifford youth long before the county recreation department became involved. The pair has helped to raise generations of children through respect and an unwavering sense of community.
Staley pointed out several adults in the crowd that he and Page mentored when they were younger and noted that Antoine Jennings, Crossover Mission co-founder and coach, was among them. While honored by the award, Staley was proud to see that men like Jennings were living by example as he and Page had modeled for their young charges years before.
Cathy De Schouwer, Crossover Mission co-founder, noted that "these two gentlemen worked miracles out of a small shed with no financial support. Their legacy has inspired others, like Antoine, to step up as role models for these kids."
"Our goal was to get the kids off the streets and keep them busy with something positive. Once we hooked them on sports, they kept coming back and made sure to follow the rules so they could continue to participate. Just like Crossover Mission does. These aren't bad kids, they're just kids that need to be held accountable for the choices they make," added Staley.
During the exhibition game, the teams went head to head with Crossover enjoying a 51-40 victory. But the real winners are the kids, according to Indian River County Sheriff's Office Capt. Milo Thornton, because the interaction helps to bring the community together. "We are working to bridge the gap between the Sheriff's Office and our community. The program that Antoine and Cathy have built from the ground up is a great opportunity for the Sheriff's Office to build a relationship with our youth, and to let them know that the Sheriff's Office is here for them. It's not a case of us against them. It's a partnership."
"We believe that it's important to continue to work together and allow both law enforcement and everyday civilians see each other in a different light," said Jennings. "At the end of the day, we are all people. Civilians have to know that law enforcement genuinely cares and aren't only in the community to harass or arrest everyone. On the opposite end, civilians have to accept that law enforcement has a job to do and give respect to those who take on that responsibility."
For Jennings, "the best way to break down walls is to build relationships through interaction on neutral ground where we can all be equal. In the end, we all want a community that is safe for our children. It starts with us, the adults."
For more information, visit crossovermission.com.
Photos by: Kaila Jones
Click HERE to see more or buy photos