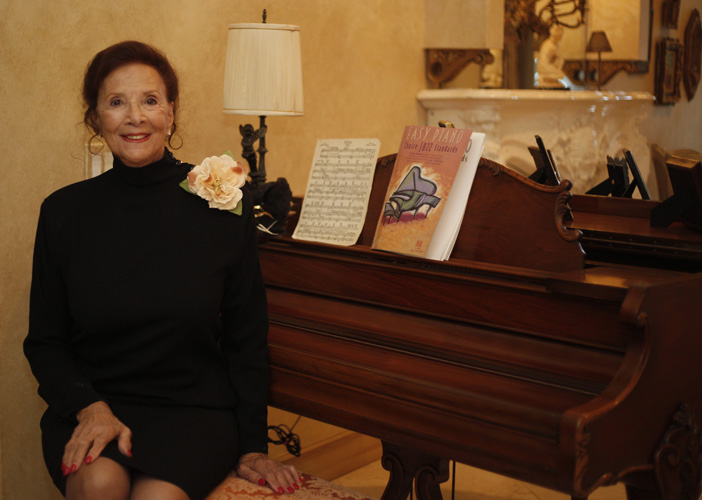 Linda Sposato believes in living life to the fullest, accepting new challenges and career changes with gusto. Two years ago, she embarked on her newest passion, the Music Angels Education Fund, which provides music lessons to talented, committed lower-income students between the ages of 6 and 12.
"I've had a burning desire to help children through music for a very long time," Sposato professes. "It's kind of like a dream that just pops into the forefront of the mind. I know how much music enriched my life and I have been very fortunate, so I wanted to give back, especially to underprivileged children.
"There is so much potential in children and if they don't have the right connections or vehicle, that potential can be missed. Children of struggling families often don't have the opportunity to develop their talent. Music is so empowering it carries through all aspects of your life."
Sposato initially raised funds for Music Angels through a couple of intimate parlor concerts; one at her home and the other at the home of a friend. Talented members of the Gifford Youth Orchestra entertained the guests and all the proceeds were donated to the GYO.
The number of interested supporters quickly outgrew their parlor spaces, with more than 70 guests attending their third concert, this time held at the First Presbyterian Church.
Determining the importance of reaching individual children not already involved in music programs, Sposato joined the Cultural Council and set up a booth at their yearly Celebrate the Arts event in Riverside Park to present her Music Angels dream to the public.
"People loved the idea and donated generously," she says. "I was approached by a woman who knew of a 9-year-old child being raised by his grandmother who yearned to play the guitar. I introduced him to a guitarist who determined his aptitude and he became our first individual beneficiary. He is now taking lessons and advancing beautifully."
In addition to funding music lessons, Music Angels finds homes for recycled instruments. Youth Guidance recently started a music program as a result of a generous donation of several instruments to their organization.
"We need to get the word out that if someone has an instrument sitting in their closet, that we can put it to good use," says Sposato. "Just call us and we'll find it a home."
Sposato knows from first-hand experience that music can add value to life. She sang in clubs in the Adirondacks as a starry eyed, 20-something in the 1960s and at just 23 worked at a TV station located directly above the Dick Clark studios.
After a friend took one of her demos to Clark, he said it was good enough for air play, but by the time she was able to cut a record, Clark was being investigated in a payola scandal and that opportunity fell by the wayside.
Undeterred, "I continued singing in clubs and peddled my 45-demo record on my own to local radio stations, and it did get a little air play, but not enough to make it big," she says. Still, she made a living as a vocalist for five years before realizing that fellow club singers in their 40s and 50s were making the same amount of money as she was.
As a result, she changed careers and transitioned into real estate, successfully marketing residential and commercial properties in the Philadelphia/New Jersey area, while continuing to perform at clubs on the side, even once to thousands at the at the Steel Pier in Atlantic City.
"I was making money selling property but making myself happy by singing," she explains.
After coming across a small commercial property, she changed gears again and opened up a coffee and cheese shop, despite knowing nothing about running a café.
"I signed a lease with the landlord and my girlfriend and I set up shop," says Sposato. "We quickly learned that if you first attracted the women, they would end up bringing in their husbands. And if the husbands liked it, they would bring their friends and business associates. The key to our business was attracting the women first."
Business snowballed after a local restaurant reviewer gave her an eight-star review.
"That's when the restaurant really took off," Sposato recalls with a laugh. "Once again, I learned that if you love something and you are willing to stick with it, it will come to fruition."
That success led to an expansion into a much larger building and, through savvy business acumen and excellent culinary skills, their Continently Restaurant thrived for many years. At the same time, Sposato hosted a cable television show from 1983 to 1985.
"It was so much fun because I got to interview local celebrities and journalists as well as stage a wine and cooking show. I was one of five female chefs in the area and I was completely self-taught," she says. "I loved cooking since I was about 12 and just learned it along the way. Fortunately, I was good at it!"
Sposato had visited Vero Beach in 1985, but when she opted to retire to Florida she initially settled in Pompano.
Drawn back to Vero's small-town vibe, she says, "Believe it or not I think Vero is a lot like suburban Philadelphia in the sense of community. It's not a big city and it's comfortable and safe."
In 1997 she bought an investment property in Sea Oaks, explaining, "I fell in love with the old Florida feel and the huge oak trees. It seemed like a tropical forest on the beach. What more could one ask for?"
A year or two later she purchased one of the beach villas at Sea Oaks and moved down permanently. While she still owns that property, she found her forever happy place in an oceanfront home in Oceanside, east of the Moorings.
On Nov. 2 Music Angels will host a little jazz band concert during the First Presbyterian Church's annual Car Show.
"It's a bit unconventional but it will give some new exposure and contacts that we wouldn't normally encounter," Sposato explains.
For more information, visit www.MusicAngels.net.