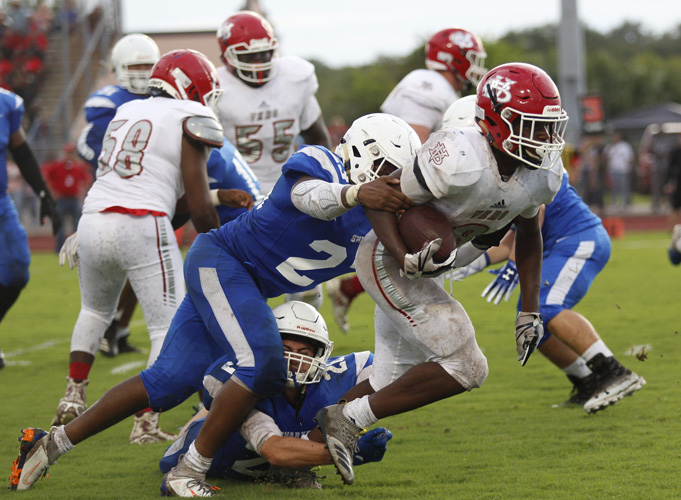 Football fans flooded into the Sebastian River High School Stadium on Friday night, proudly wearing their school colors for the 14th Annual Scholarship Foundation of Indian River County Football Classic.
The stadium was awash in a sea of blue and red as fans cheered on the Sebastian River Sharks and Vero Beach Fighting Indians and, in the end zone, Scholarship Foundation VIP supporters feasted on BBQ while merging blue and red for one unified cause – to make college dreams come true for students of Indian River County.
The Football Classic has been a yearly tradition since 2006 as a community-supported event where all of Indian River County gathers to support their favorite high school football team. Since the first pigskin was tossed 13 years ago, the Football Classic has garnered more than $190,000 to fund scholarships for local college-bound students.
"Between a portion of the ticket sales and the VIP BBQ, we'll raise close to $10,000," said Sam Block, a SFIRC board member for more than 44 years. "But most of our funds come from private donations, gifts and endowments. This community believes in the future of our youth and power of education and has been most supportive."
The SFIRC was founded by Dan K. Richardson and the Vero Beach Rotary Club in 1965. Initially aligned with the national Dollars for Scholars program, the organization disaffiliated from the national group in 2013, calling themselves the Scholarship Foundation of Indian River County.
Their mission has continued to offer hope, encouragement and scholarship opportunities to Indian River County students. Since its inception, the SFIRC has awarded more than $12.4 million in need-based scholarships to 2,968 deserving students. Last May, at the 54th annual award ceremony, SFIRC awarded 94 scholarships for a total of $610,000 to 48 students who will be attending 18 colleges and universities in seven states.
"The Scholarship Foundation literally changed my life," said Courtney Jensen, a 2009 scholarship recipient and University of South Florida graduate. "I was able to focus on my curriculum without worrying about the costs of my education. I now teach at Osceola Magnet School and love giving back to the community that helped me fulfill my dreams."
"Now is the time to start applying for federal and state money as well as local grants and scholarships," said Gaye Ludwig, SFIRC board chair. "With the average yearly cost to attend a state school approaching $22,000 and Ivy League schools approaching $80,000 a year, we want to help students choose a school that is right in terms of the amount of finances they have and the assistance they can obtain. Our goal is to have them graduate from college as debt-free as possible."
The powerhouse Vero Beach Fighting Indians coasted in the rivalry game, winning 41-0.
Scholarship applications are available now for 2020 awards; the application deadline is Jan. 30, 2019.
For more information, visit sfindianriver.org.
Photos by: Denise Ritchie and Kaila Jones
Click HERE to see more or buy photos