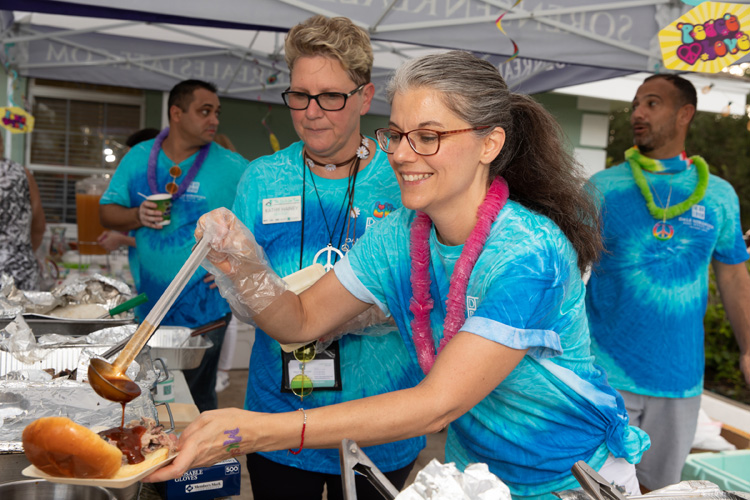 The Sebastian River Area Chamber of Commerce invited residents to join them for an "outta-sight night" featuring all things pineapple during the ninth annual Grill Out Night last Friday evening.
The night overflowed with joy as business owners – adorned in tie-dye shirts, peace signs, bell-bottoms and beads – emitted a happy, hippy vibe as they served up specialty concoctions featuring the sweet, prickly fruit that once grew aplenty along the sand ridge – pineapples.
Patrons nibbled from one business to the next on pineapple-infused ice cream and smoothies, sliders and meatballs topped with pineapple sauce and grilled pineapples. Imbibing on liquid libations featuring the fancy fruit, adults were able to channel their inner Jimmy Buffett along the way as the weather enticed them to sing about "… drinking piña coladas and getting caught in the rain."
The dark skies didn't deter folks who for most of the evening carried on through a light rain. Undeterred by a brief downpour, patrons settled in and compared notes on favorite pineapple delights and newly discovered businesses until the storm passed.
"Grill Out Night is a special event opportunity customized to the needs of our businesses," said Amber Batchelor, Sebastian Chamber president. "With the city of Sebastian boasting the largest population in Indian River County, we want to ensure that our tourists and residents know the resources they have available to them.
"The idea began as a homegrown way to encourage our tourists and residents to shop local during the slower tourist season," noted Batchelor, adding that more than 10,000 people make the trek during the summertime event.
For Pete and Lynn Anderson, owners of Pareidolia Brewing Co., the event gives them a chance to meet and greet people who haven't sipped suds at their establishment in the past. "Last year we had a lot of people stop by that had never been here before. It's a fun way for them to come in and check us out," said Pete Anderson as he served up cold, frothy samples of their Aloha beer, infused with pineapple and coconut.
Families had their pick of more than 40 businesses to visit where they participated in raffles, games, giveaways and stocked up on discount offers. And the Learning Alliance parked the Moonshot Moment Rocket Bus at the Tax Collector's office to "collect" words for the Moonshot Word Wall, a roving arts literacy installation.
The chamber turned up the fire on more than the grills this year with several new features, including a free Hot Summer Deals Coupon Book, a Sizzle Down Ceremony to close out the night, and as patrons traveled along the Pineapple Expressway they were tasked with learning facts at each of the businesses to earn stamps on specialty passports for a chance to win a two-night cruise for two to the Bahamas.
The Sebastian River Area Chamber of Commerce will host the 26th Annual Media Auction on Sept. 24. Visit sebastianchamber.com for details.
Photos by: Denise Ritchie
Click HERE to see more or buy photos