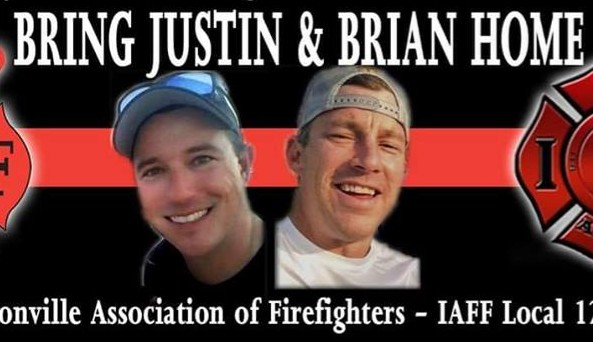 Since Friday, the Coast Guard has searched at least 46,800 square miles offshore – from Port Canaveral to South Carolina – to find two firefighters who went missing after going on a fishing trip.
And they are not giving up. One of the men, Justin Walker, a 33-year-old firefighter in Fairfax County, Virginia, is from Vero Beach, according to family members.
"There are no plans for suspension (in the search) at this time," U.S. Coast Guard Petty Officer 3rd Class Ryan Dickinson said. "It's an ongoing search up and down the coast."
Multiple agencies along with civilian boaters are searching for Walker and Brian McCluney, who took off about 11 a.m. Friday on a 24-foot boat from the Port Canaveral Recreational Boat Launching Facility. A family member notified authorities when the firefighters did not come back Friday evening as expected, Dickinson said.
McCluney, a purple-heart Navy veteran, is a firefighter and paramedic in Jacksonville, officials said. His age was not immediately available.
A Facebook page called "Bring Justin and Brian Home" was created Sunday reaching out to the public asking for help to find the missing men. The firefighters were headed toward 8A reef, a fishing spot ,Coast Guard officials said.
The temperature was 86 degrees and winds were 13 mph coming from the southwest when McCluney and Walker left to go fishing Friday, National Weather Service in Melbourne forecaster Jessie Smith said. The skies were clear and visibility was normal, Smith said.
There were reports of heavy drizzle around noon and light drizzle about 4 p.m., Smith said.
Monday, a boater found a gear bag 50 miles off the coast of St. Augustine, Dickinson said. McCluney's family told authorities the bag belonged to him, Dickinson said.
The Coast Guard, law enforcement agencies, fire rescue departments, the Florida Fish and Wildlife Conservation Commission, the U.S. Navy and U.S. Customs and Border Patrol along with volunteers continue to search for the men. In addition to boats, authorities are also using helicopters and military aircrafts to help locate the firefighters, Dickinson said.
#UPADTE 13: @USCG crews continue to search for the overdue @PortCanaveral boaters. An HC-130 search plane and 2 CBP C-130 planes are conducting a first light search and 2 87-ft patrol boats and a fast response cutter searched through the night and remain on scene. #HappeningNow pic.twitter.com/u6a0vXjVfE

— USCGSoutheast (@USCGSoutheast) August 20, 2019
Bring Them Home
Members of the community – statewide and out of state – have joined in the efforts to search for McCluney and Walker. Family members of the missing men are amazed at the outpouring of support.
"They want to help us bring these guys home," said Walker's aunt, Diane Belcher Henderson, of Vero Beach. "Please pray for our family."
Henderson, 51, said she last saw Walker on Wednesday night. Walker flew in from Virginia for a surprise birthday party for his sister, Henderson said.
"He's outgoing and such a loving person," Henderson said. "He is compassionate and caring for his family."
Henderson said Walker attended Tabernacle Christian School in south county. Walker is married to Natasha, who went on a plane with authorities Tuesday to help search for the firefighter.
Henderson said Walker and Natasha moved to Virginia a few years ago. Walker has two sisters, Jessica Bergetresser and Misty Patterson, and a brother, Jerrad.
Walker's parents, Rick and Sheila, drove to Jacksonville Tuesday to help with search efforts. Walker's parents and siblings all still live in Vero Beach, Henderson said.
McCluney's family also is not giving up hope.
McCluney's wife, Stephanie, told other news outlets that Walker and McCluney usually go on fishing trips when Walker comes to visit. When the two friends didn't return from the recent trip, the family called the Coast Guard.
"There's a huge effort underway, including federal, state and local agencies," Stephanie McCluney said in a televised interview. "There are volunteers we've never seen who are out there trying to find them and bring them home."
Stephanie McCluney said the boat the two friends were using has had mechanical issues in the past. In the interview, the family said they hope McCluney and Walker are "stranded, hunkered down and waiting to be rescued."
"He's a hero. He's the guy you go to when you have a problem," McCluney's firefighter colleague Scott Jacobs told media outlets.
McCluney's brother, Kevin, said he thinks McCluney intentionally threw out his gear bag and left it as a bread crumb so officials could find him. In the interview, Kevin McCluney said the boat his brother was using – which the family planned to soon sell – belonged to their father.
McCluney's family also have been searching the area where the boaters went missing. The family told media outlets they have combed beaches leading up to south Georgia searching for any items that might have been tossed overboard.
"We tried to cover every square inch," Stephanie McCluney said in the interview.
How to Help
Those who want to donate toward search efforts can visit the Jacksonville Firefighter Charities website. The money will go toward fuel for aircrafts and watercrafts helping to find the firefighters.
Anyone with information on the disappearance of the firefighters should contact Coast Guard Sector Jacksonville Command Center at 904-714-7558.
Photos of Justin Walker provided by his family