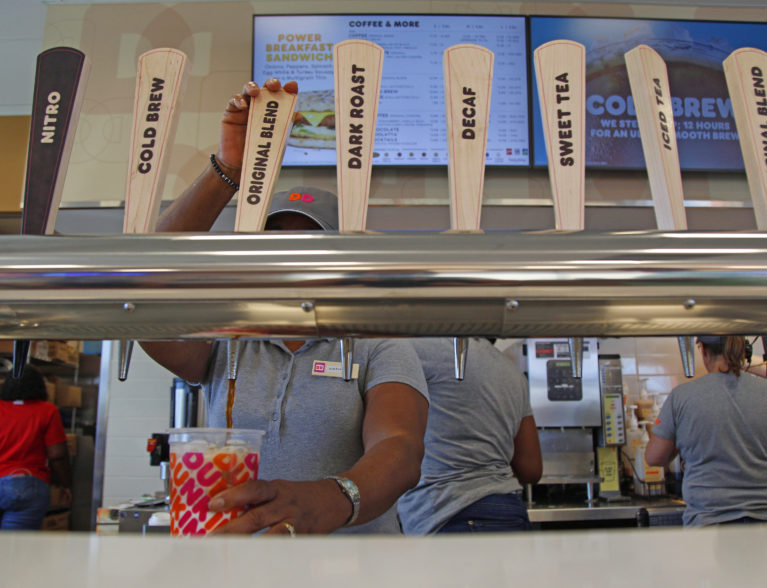 Danny Figueiredo has been busy this year.
The Dunkin Donuts store owner at 11 a.m. Saturday celebrated the grand opening of a 'next generation' chain at 5245 U.S. 1, located across the street from Harbor Point outdoor shopping plaza. The new store, the first of its kind for the franchise on the Treasure Coast, has a modern look with new ovens and a tap system serving eight cold beverages including coffees, iced teas, cold brew coffee and nitro infused cold brew coffee.
"This is all to improve customer service; to make it sleeker, faster," said Figueiredo, who owns nine Dunkin Donuts stores total in Indian River County. "It's exciting to promote on our display the newest and greatest everything we have. It has been a lot of work, but the end result was good."
One of the nine chains is slated to open next month at 5135 20th Street, he said. The location at U.S. 1, which has 22 employees, officially opened July 31, Figueiredo said.
Dozens of residents flocked to the U.S. 1 site Saturday for a ribbon cutting ceremony to celebrate the grand opening. Residents got free donuts, coffee, other treats and were able to participate in raffles, face-painting, donut decorating activities and games.
Figueiredo, a Connecticut native who now lives in Brevard County, said he has been an owner of the franchise since 1995. Over the years, Figueiredo has seen the chain progress and expand.
"When we first started, we were mostly just donuts and coffee," Figueiredo said. "Overtime, we added more sandwiches, bagels and coffee specialties."
It took eight months for C.W. Hayes Construction, based in Seminole County, to build the 'futuristic' store. The building, which sits on 2,000 square feet total, cost about $2.5 million to build, Figueiredo said.
"We paid full price," Figueiredo said.
The owner said he thinks the store is in a good spot for business. Expanding the new generation stores into Martin and St. Lucie counties is definitely a possibility, Figueiredo said.
"I'm very relieved this store is open. We value all of our customers," Figueiredo said. "We want to serve quality food and drinks in the fastest time that we can. That's our daily goal."
Photos by Kaila Jones and Nick Samuel