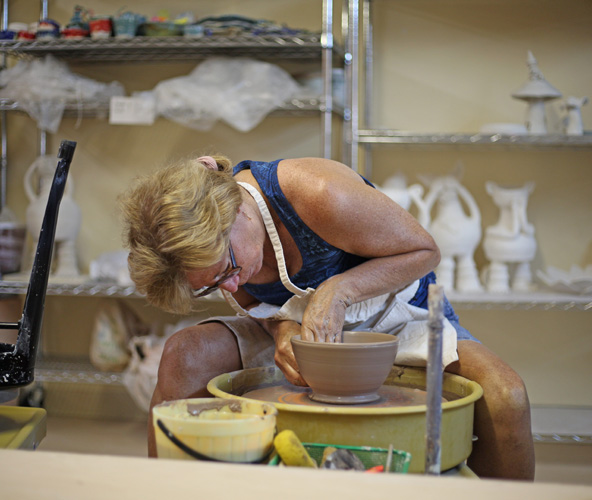 Indian River Clay members have been busy molding their fledgling studio into a hotspot for potters since opening last November. The nonprofit working clay studio was the result of years of discussion among local potters and has attracted so much interest that they are already looking for a bigger space.
"The response has been extraordinary. We weren't expecting to be looking for more space in nine months," says Maria Sparsis, founder and resident artist. The key to their success, she adds, is that "it's a happy and welcoming place to be."
The aim of the studio is to "promote the learning and development of pottery skills" by inspiring "curiosity and discovery around the art and craft of clay," arising from their collective belief that "every person is an artist, and clay is a perfect medium through which to explore their talents."
Myrna Renkert, a member and local jeweler, says she caught the clay bug when "Flametree Clay Art Gallery owner Leah Cady told me she wished I worked in clay because she'd love to sell my work in her gallery."
Renkert took a clay bead class with Sparsis and, as result, says she has regained her verve for jewelry design through this new medium.
"I'm excited about my jewelry-making again. I was blah. This was just the boost that I need," says Renkert.
Asked why she joined the studio, she explains, "I think it has a lot to do with the people. I'm not usually a person who's a joiner in any sense. Everybody helps each other, and it has a good vibe."
"Now she's hooked!" says Sparsis with a grin. "That's the idea. Give them a sample and they'll keep coming back for more."
To encourage folks to try out the studio, Indian River Clay offered a special for "the hot months."
For $95 a month, members have full access during any three months between May and October. Membership includes a key to the studio, so artists can come in and work at any time of the day or night.
"A lot of people say they are staying because of the camaraderie," says Sparsis. "There's something about that collaboration of seeing what other people are doing and just getting inspired and learning something new. You don't get that when you're working in a vacuum. You also don't get the socializing."
Now, with more than 40 members, including full-time, summer and seasonal, the studio is always booming with activity.
"When people come in and they see who we are and what we're doing, along with the growth and the camaraderie, it's hard not to want to be a part of it," adds Sparsis.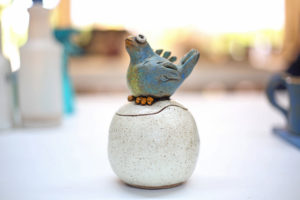 Classes, which run from two hours to six weeks long, are taught throughout the year to adults and children. They range from beginner to expert levels and include a wide assortment of methods, including hand building, pinch pots, coiling and slab work. Class participants have completed such finished products as birdhouses, totems, garden art, vases, mugs and wind chimes.
By offering such an extensive variety of classes on different levels and workshops with master potters, Indian River Clay is attracting a nice mix of artists, says Sparsis.
In fact, it is well on its way to becoming a world-class clay center, much like the Armory in South Florida. Indian River Clay's advanced classes have been attracting potters from around the state, and potters from Port St. Lucie and Melbourne have recently become members.
"I don't care if people never get good. To me, as long as you see some progress over time, it's enough," says Sparsis. "Not everybody is interested in being a professional potter or selling their work. Sometimes it's just about that little bit of time that you're spending with a hobby."
Sparsis says she enjoys seeing the breathtaking beauty of some of the pieces the more experienced "mudslingers" have been creating, but is equally appreciative watching first-timers play with the clay.
"I so enjoy watching someone who's never touched clay before and all of a sudden they light up. Part of it is the tactile thing, but part of it is just seeing the possibilities of what you can make out of a lump of clay," she explains.
When IRC first opened its doors, most of the equipment was donated – such as a kick wheel donated by Sharon Sexton. Thanks to the unprecedented response from the community and a $25,000 grant from the Becker Foundation, the studio now has a new kiln and plans to purchase a Raku kiln and a miniature wheel.
As the studio continues to take form, they hope to move into a bigger space to enable additional equipment, a designated gallery space, extra classes and an expanded speaker program.
Indian River Clay has applied to be included in the Vero Beach Art Club's annual Art Trail – this year on Dec. 7.
Sparsis, who claims that "potters are the red-headed stepchildren of the art world," says it would give them an opportunity to broaden art lovers' horizons, show off their artwork and encourage studio memberships.
Another aim of Indian River Clay is to harness the healing form of this powerful art form, often described as therapeutic and relaxing, as the process of spinning and molding allows your mind and body to let go of outside worries.
This summer IRC was able to open the studio up for Girl Scouts to earn their clay badges and to provide summer camps for children. They offered scholarships to students, teachers, veterans and their families, and the studio will also be used as a place to educate St. Lucie County School District teachers.
"I'm really hoping that it's a place for growth, whether it's personal growth or whether it's a place to be with other people in a nonjudgmental, friendly environment," says Sparsis. "We want this to be a place where people with different needs can all get what they want."
For more information and a class schedule, visit indianriverclay.org.