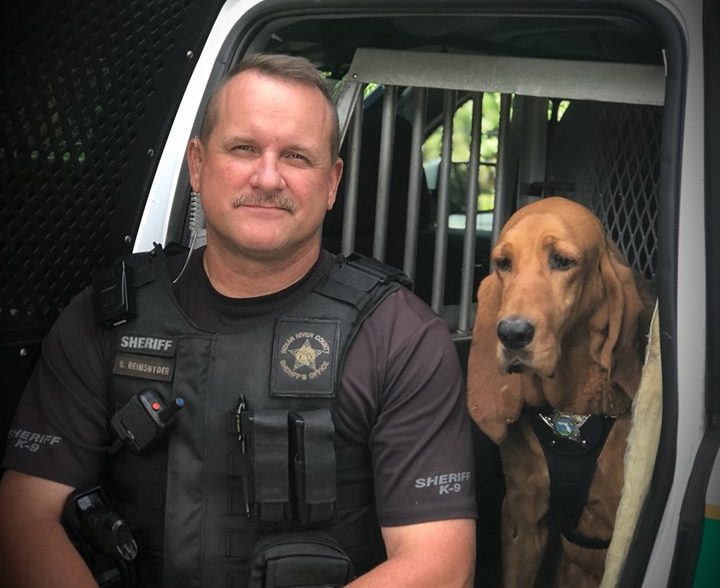 INDIAN RIVER COUNTY — Dixie, a sheriff's K-9 bloodhound who once sniffed out the location of an 11-year-old autistic runaway, died of old age Sunday morning.
Dixie died at Live Oak Animal Hospital surrounded by past and present sheriff's K-9 handlers, Vero Beach and Sebastian police officers, Indian River County sheriff's spokesman Maj. Eric Flowers said. She was 12 years old.
"We knew she was getting old and (was getting ready to) retire," Flowers said. "We didn't expect her to pass this soon."
Deputies paid tribute to Dixie in a Facebook post, where they described her as "more than just a dog." K-9 Deputy Brian Reimsnyder was Dixie's handler for 12 years, officials said.
The two had a bond that "ran deep," deputies said.
Dixie joined the sheriff's office K-9 unit in 2007 as a search-and-rescue bloodhound. Dixie's main duty was tracking scent using pieces of clothing and other items to search for missing and endangered people, deputies said.
Several years ago, Dixie trekked through mud and dirt trying to sniff out the location of an autistic boy who ran away from home. Deputies searched for the child for more than seven hours, starting in the afternoon and leading into midnight, Reimsnyder said.
Dixie finally tracked the boy, fast asleep and curled up inside a culvert without water. The boy – who was 300 yards away from his home on 45th Street – was returned to his family, Reimsnyder said.
"It was a pretty proud moment for us," Reimsnyder previously said. Dixie did not participate in drug searches, Flowers said.
As time passed, Dixie started to slow down and was in more need of medical attention. In May, the sheriff's office brought in Willow, a 17-pound bloodhound pup that would take Dixie's place.
Reimsnyder is also the handler of Willow, the youngest member of the K-9 team.
Deputies planned for Willow, born in February, to take over Dixie's duties after Willow's training was complete, officials said. It was not immediately clear if the new pup finished her training.
Dixie was still working at the agency up until her passing, Flowers said. Besides Dixie and Willow, Reimsnyder has a K-9 patrol dog, 8-year-old Kobi, a Belgian Malinois.
Reimsnyder said he uses Kobi for criminal cases involving building searches, fleeing suspects and more. The three dogs lived with Reimsnyder, he said.
With Dixie's passing, Reimsnyder has the remaining two dogs and memories of Dixie, who made notable accomplishments in her 12-year career sniffing out missing children, adults and those who might be suicidal.
No memorial services for Dixie were planned. Dixie's name will be added to the list of fallen sheriff's K-9 dogs, Flowers said.
"During her career, she assisted with the search and recovery of many missing elderly people and children," Flowers said. "Willow will continue her legacy and ensure our community has a bloodhound to assist with our operations."
Photos contributed by Indian River County Sheriff's Office