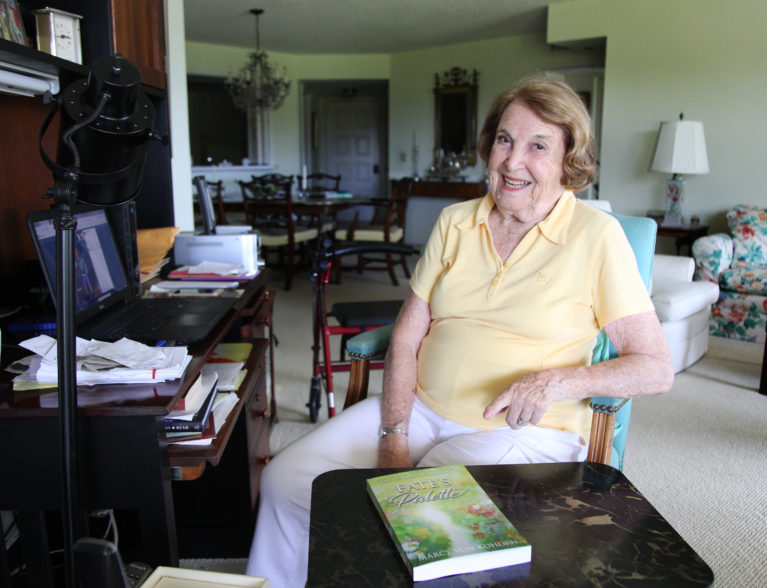 Local artist Marcy Von Kohorn's life has been filled with peaks, valleys, intrigue and travel – in many ways, it has been as colorful and intricate as one of her coveted landscape paintings. The globe-trotting socialite has made her mark by mastering the ancient form of Chinese brush painting and even today the spry 93-year old continues to paint daily, volunteers at the VNA Hospice House in Vero Beach and is actively involved in her Moorings community.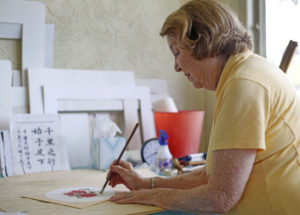 Von Kohorn maintains that her life story actually begins with that of her grandfather, who arrived in this country as an 8-year-old Russian immigrant in 1988. Like so many immigrants, his story echoes the true American dream. As a youngster, one of his first jobs was selling shoelaces and matches on a street corner. Eventually, after a brief stint as an FBI agent, he amassed a fortune in real estate and ultimately became one of the richest men in Philadelphia.
His daughter Cecelia was Von Kohorn's mother, in a marriage that would be short lived. Von Kohorn's parents divorced shortly after she was born and her childhood, while privileged, was upended. She found solace at a private boarding school before going on to study at Columbia and Syracuse universities. After graduating, she married and had two sons, divorcing after eight years.
She finally found true happiness with her second husband.
Life was glorious with Henry Von Kohorn, a wealthy widower and owner of the textile company Von Kohorn International Corporation. The couple raised a blended family of boys – her two, his three and eventually one of their own – in a lovely home in New York's Greenwich Village.
She joined him on numerous trips to his manufacturing plants all around the world, and it was during that time that she embarked on what was to become a lifelong artistic path.
"I was taking watercolor painting classes at the YMCA when a lady approached me and asked if I would be interested in doing Chinese brushwork," Von Kohorn recalls. "She took me to another floor and showed me some of the intricate paintings and I was intrigued with the gorgeous brushstrokes, the rice paper, silk and leaf boards and the beautifully painted flowers and landscapes. I knew this is what I wanted to do."
In 1960 she joined a class taught by the late Diana Kan, a renowned watercolor and calligraphy artist and teacher, whose works appear in museums around the world. Von Kohorn says that while they became close friends, the relationship never broke the intangible bond of student and master that is so much a part of the Asian culture.
Von Kohorn describes her own Chinese brush work pieces as representative of the ancient, traditional mysticism of the Orient and the contemporary creativity of the Western world.
Working on rice paper, silk and gold leaf, she uses Chinese brushes and follows the ancient principles and techniques passed down through the centuries by Chinese calligraphy masters; the basis of which is control of the brush, held upright and perpendicular to the paper to allow a variance in pressure to govern the stroke.
"I paint on a flat surface, standing up," says Von Kohorn. "This allows for unhampered movement of my arm and spontaneity of the brush. The brush is an extension of my will and the pathway to my heart and mind. I like my flowers and landscapes to have a fairylike quality to them that evolves from my individual freedom and expression."
The two primary techniques that Von Kohorn employs are the Mo Ku style, using layer over layer of several colors, and the Po Mo or splash method, where the color is poured, brushed or drizzled on a silk or gold leaf surface.
She also enjoys utilizing a crinkle technique, where the surface is crinkled and disfigured before being painted, and is then flattened and mounted to another surface. Each of the techniques creates stunning results, beautiful in their depth and complexity.
The final product, she explains, should master the balance of the Yin (feminine) and the Yang (masculine), while infusing Chi, the essence of spirit or life itself.
"My art has opened many doors for me. Of course, I find peace and meditation in my craft, but I've also met some very influential people," says Von Kohorn.
"I spent a couple of months in Cairo, Egypt, in 1979 while traveling with my husband for his business, and I had a joint art showing with my friend (Egyptian artist) Salah Tahar," she recalls.
Coincidentally, at the same time as their opening night, Egyptian President Anwar Sadat was arriving in Cairo to meet with Israeli Prime Minister Menachem Begin for the Egypt-Israel Peace Treaty, which led to increased security in the area. "It certainly made for an interesting opening night."
On the home front, Von Kohorn has donated paintings to local nonprofits for their fundraising auctions and is particularly proud of the turtle she painted for the Mental Health Association's Turtle Trax campaign. "Florida Flo," as she was affectionately named, was purchased by the VNA Hospice House and now graces their entrance, her bright and colorful shell exuding positive energy.
"I wanted her to be more than just an ornament," says Von Kohorn. "I wanted her to give joy and comfort in the midst of sadness. She was painted with a soul and the ability to spread hope, love and happiness. I'm so glad she ended up at the Hospice House."
Von Kohorn's works are now in collections in the United States and around the world, and she is the recipient of numerous awards. Locally she is a member of the Artists Guild of Vero Beach, the Vero Beach Art Club and the Vero Beach Chapter of the National League of American Pen Women. She recently published a memoir that traces her family history and chronicles her life entitled "Fate's Palette," that is available at bookstores and online.