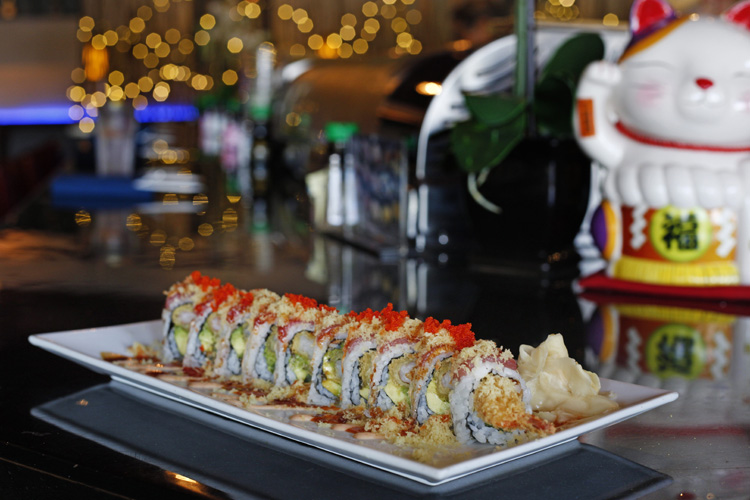 We all have a friend who is a perfectionist. When that friend enthusiastically recommended Wasabi Thai Sushi, saying it's worth a drive if necessary, we knew we had to give it a try.
So we arrived on a Thursday evening around 6 p.m., and we were immediately seated in a booth where our drink orders were taken. The service was friendly, and our server answered all of our questions about the voluminous menu.
Asian restaurants frequently offer a dizzying variety of dishes, and Wasabi Thai Sushi is no exception. Thumbing through the pages of the menu you'll find Japanese, Thai and even a few Chinese favorites.
There's sushi and sashimi, curries, hot pots, soft-shell crab, crispy duck, bento boxes, savory soups and stews, build-your-own stir fry platters, and even frog legs and popcorn shrimp atop a salad. If you're in a festive mood or out with a group, the Wasabi's Boats for one to four people ($25.95 to $89.95) are truly a work of art, crafted with colorful sushi and sashimi.
We decided to start with a couple of appetizers and soup. We ordered the Thai Dumplings ($6.50) and Shrimp in a Blanket ($7.50). Both dishes featured sweet blue crabmeat, a local delicacy. The dumplings were superb, but the shrimp, chicken and crab rolled in a spring roll shell got extra points for creativity as well as taste.
Both the wonton soup ($3.95) my dining companion ordered, and the miso soup ($2.50) I chose arrived piping hot and were very good. If we had to say which was the better, the generous bowl of wonton soup – tender chicken-and-shrimp-filled dumplings in a delicious broth with asparagus tips, spinach and garlic – edged out the more generic miso.
The wonton soup was also served in a lovely white Mikasa china bowl which seemed just a step above standard restaurant dinnerware. We saw numerous small touches like that, including the ambient blue lighting and the decor that make Wasabi Thai Sushi a bit more stylish and upscale than your typical strip mall Asian restaurant, though it is located in a bustling Publix shopping center.
We each ordered a sushi roll and split some beef fried rice ($10.95). The fried rice was delicious, as was the California Roll ($5.95) and the Wasabi Lobster Roll ($24.95) we shared. We were impressed at the crisp texture of the vegetables and the freshness of the seafood.
Presentation of the lobster roll was especially appetizing. A portion of the roll, which is filled with tempura lobster tail, avocado and yamagobo, was served on a split lobster tail shell in a martini glass secured to the plate by a bit of sticky rice.
Atop the roll was seared tuna, plus clumps of two types of flavorful roe, one orange with the typical fish flavor and an almost neon green roe infused with a fiery wasabi. These added not only interesting color but complex flavor to the roll. Finally a drizzle of a light wasabi sauce was added to complete the roll.
We did not order dessert, but we did stay awhile to finish our pot of hot green tea. Lunch specials at Wasabi offer a wide selection of Asian dishes served with soup or salad, a spring roll and steamed rice, and fall into the $8 to $12 per person range – which seems a very good value. Dinner with appetizers and soup will cost $25 to $40 per person, plus tip.
Our regular dining reviewer, Tina Rondeau, is on holiday. Her column will resume next week
Wasabi Thai Sushi
Hours: 11 a.m. to 9:30 p.m., Monday through Thursday; 11 a.m. to 10 p.m. Friday; Noon to 10 p.m. Saturday; Noon to 9 p.m. Sunday
Beverages: Beer & Wine
Address: 13409 U.S. 1, Suite 8A, Riverwalk Plaza, Sebastian
Phone: 772-571-6920
Photos by: Kaila Jones
Click HERE to see more or buy photos