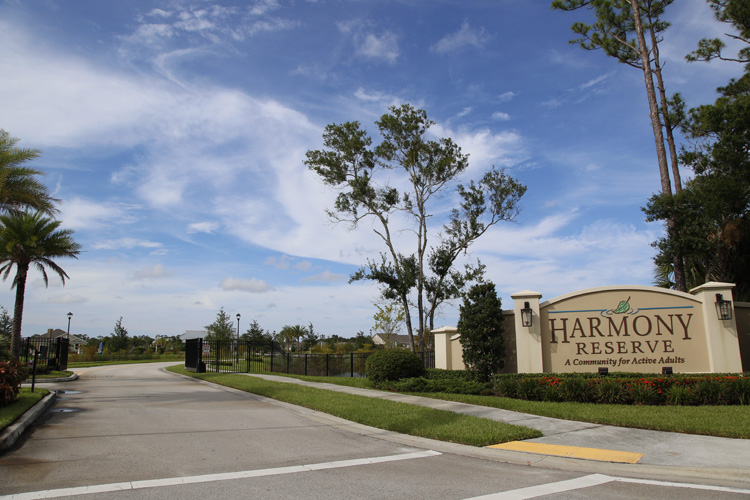 The county commission last week approved a final site plan for the third phase of Harmony Reserve, a huge, fast-selling development three quarters of a mile north of the Indian River Mall. Located between 58th Avenue and 66th Avenue, and loaded with amenities, the 128-acre, 55+ age-restricted community will include 413 homes when complete.
The just-approved third phase alone will have 116 single-family homes and villas on about 32 acres, making it twice as large as the average subdivision in number of homes, according to the National Association of Homebuilders.
The builders at Harmony Reserve – Maronda Homes and Holiday Builders – will construct homes in the third phase similar to those already found in phases one and two, said Karen Mechling, marketing and lifestyle director for Harmony Reserve. A fourth phase is planned.
Between the two builders, there are at least 15 floor plans ranging from 2 to 4 bedrooms and 2 to 3 bathrooms offered in the overall community. Home sizes range from 1,244 square feet to more than 2,700 square feet. Prices originally started at $199,000, went up to $339,000 but now range between $209,000 and $380,000. At those prices, sales in phase three likely will total between $30 million and $40 million.
Mechling said phase one of the development is nearly built out, with one lot left to sell and one spec home unclaimed. Phase two is 75 percent built out, with just 16 lots left, and the builders are already taking reservations for homes in phase three.
Karen Mechling and her husband, Chuck Mechling, own InSite Solutions, a Vero Beach construction management company. They are the owner representatives for Harmony Reserve LLC, which is the investor team behind the community. Among the investors is Toby Hill, of The Hill Group.
Now that the county has given final approval for the third phase, it likely will take about three months to get permits for the first homes in the section.
"We are paving next week," Mechling said of the roadways within phase three. All other infrastructure is in place, but home construction won't start until the roads are done. The work hinges on good weather this week.
"It's bad timing" being in the middle of summer with the afternoon rains, Mechling said.
Phase three was originally planned to have 100 residential units, but Harmony Reserve LLC was able to bump the number up to 116 after acquiring an adjacent piece of land. Mechling said that the property was previously owned by a nonprofit that had planned to establish a safe home/shelter for women, but the nonprofit floundered and the property was sold at auction.
"It just made sense," Mechling said of the acquisition. "It turned out to be a good deal for us." The added parcel will be developed with a cul-de-sac and will take advantage of the existing natural spring-fed pond.
Harmony Reserve is one of only two state registered age-restricted subdivisions in the county, but despite that classification, Mechling said the residents are more "Led Zeppelin than Lawrence Welk."
She said homeowners in the first two phases are very active – with a passion for fitness, travel, cooking, sports and card games. "They're a fun crowd."
Community residents recently went to Fort Pierce for a sunset sail, and this month they're throwing a Woodstock party to celebrate the 50th anniversary of the famed 1960s music festival.
"Any reason to party," Mechling said.
Harmony Reserve boasts a 13,000-square-foot clubhouse complete with gathering spaces, fitness center, pool perfect for laps and water aerobics, bocce ball and pickleball, a studio for barre classes, and even a gourmet catering kitchen for events and chef demonstrations.
The average resident's age is 64, Mechling said, not counting the two residents who are under the 55-year-old threshold. Per state rules, an age-restricted community must have at least 80 percent of its residents age 55 and older. Currently, Harmony Reserve is sitting at 98 percent.
They might not be young in body, but, Mechling said, "they are young at heart."