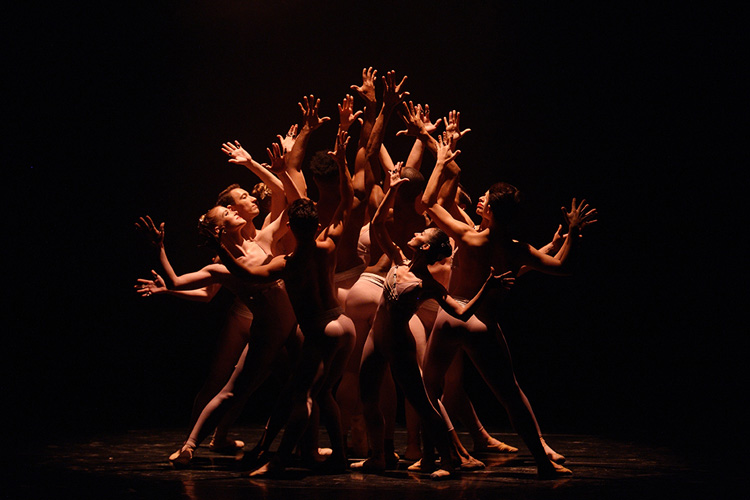 "Light Rain" is forecast for this Friday and Saturday, Aug. 2 and 3. According to youtube.com, "Light Rain" has been the Joffrey Ballet's "signature piece" since it was created in 1981 by Joffrey's co-founder, dancer and choreographer Gerald Arpino, for the company's silver anniversary. Ballet fans won't have to venture any farther than Riverside Theatre's Stark Stage to see what, back in '81, the New York Times called a "sexy ballet" and "one of Mr. Arpino's slickest efforts in the pop-erotic genre, and it is mighty good slick." "Light Rain" will be performed by Dimensions Dance Theatre of Miami, described by Miamiartzine.com as "fast becoming one of the most successful ventures in Miami dance in recent years," and will conclude Ballet Vero Beach and Riverside Theatre's 2019 Riverside Dance Festival. Arpino, says the production promo, created this ballet to showcase the new young dancers of the company, saying, "It is my gift to these talented youngsters. I am inspired by their modes and rituals, their passions." It remains Joffrey's most requested work and, as such, will be a fine festival finale. Curtain: 8 p.m. both nights. Tickets: $10 to $75. 772-231-6990.
An additional ballet experience awaits you earlier on Saturday, Aug. 3, in the same venue. Expect to be entertained and impressed as lithe young dancers instructed by members of Dimensions Dance Theatre of Miami take the stage in the Riverside Dance Festival's penultimate performance. Time: 2 p.m. Admission: free..
It's time to Howl at the Moon again. Guess where. Riverside Theatre, of course, this coming Friday and Saturday, Aug. 9 and 10. A couple of pianists and a drummer – Katie Pinder-Brown and Ken Gustafson on the 88s, Aleksandr Khalitov on drums – will set the stage on fire. You get to pick the songs and see if you can come up with one these crazy-talented musicians don't know. Lots of luck with that. Outside, as always, it's Live on the Loop, free live music; and all kinds of foodstuffs and beverages (full bar and grill; don't BYO). Times: Howl – 7:30 p.m. and 8:30 p.m. 7:30 p.m. & 8:30 p.m. Live on the Loop – 6 p.m. Tickets: Howl – side seats $12; table seating $16-$22. Live on the Loop – free. 772-231-6990.
A pleasant evening with an artsy vibe: presented by Main Street Vero Beach, the First Friday Gallery Stroll has quite a following, as Historic downtown Vero's vibrant art district takes the spotlight. Galleries and "select businesses" fling open their doors so you can pop in and peruse all sorts of new artwork, in the several galleries up and down and surrounding 14th Avenue (aka downtown's main street) from 19th Street to 23rd Street. It all makes for a "lively gallery reception atmosphere." Featured this month will be the work of artist/photographer Carolyn M. Shea-Kleinpeter (she's creative director at CK1 Graphics Plus) displayed at the Main Street Vero Beach Studios. You could also extend the evening with a bit of supper at one of the nearby eateries. Time: 5 p.m. to 8 p.m. 772-643-6782.
What's up at the Mermaid: The Kilted Mermaid is a cozy, friendly, fun and funky neighborhood pub in Vero's downtown, with food, beverages and – live music. This Friday, Aug. 2, Dub 321, a reggae/rock band out of Central Florida, will lay it down. Saturday, Aug. 3, Anna and Will return to the Mermaid stage. Music: 8 p.m. to 11 p.m. P.S. They have decadent fondue. Just sayin.'