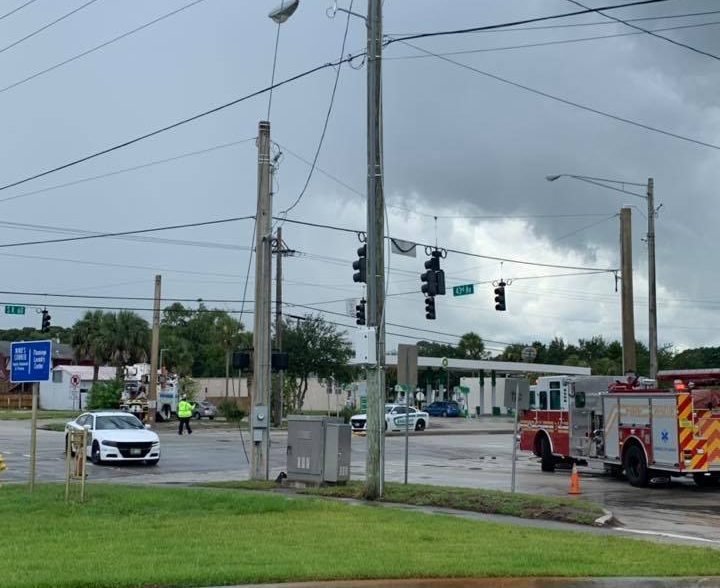 Update: Power to the traffic lights at State Road 60 and 43rd Avenue was restored by 3:30 p.m. Sunday.
Earlier story
VERO BEACH — Motorists are experiencing heavy delays after police said a downed power line and weather-related issues led traffic lights to malfunction on two busy roadways.
No injuries were reported in both incidents, Vero Beach police spokesman Officer Darrell Rivers said.
Officers got a call about noon Sunday about multiple traffic lights not working on 14th Avenue, from 23rd Street South to 16th Street. Weather-related issues led the lights to malfunction, Rivers said.
Police helped to navigate traffic flow while Florida Power & Light Co. crews worked to restore power to the lights. The traffic lights on 14th Avenue were restored about 1 p.m., Rivers said.
For the second incident, FPL crews were still working to restore power to traffic lights at the S.R. 60 and 43rd Avenue intersection. The lights malfunctioned at the intersection because of a downed power line, Rivers said.
Police were helping Indian River County deputies divert westbound traffic onto 43rd Avenue. No businesses were affected in both incidents.
Officers warned that there may be more traffic lights out. Motorists should treat intersections with non-working traffic signals as four-way stops, police said.
214th Ave from 23rd St south to 16th St – MULTIPLE traffic lights are OUT. Treat all intersections as 4-way stops!

There may be more traffic lights out, TREAT THEM AS 4-WAY STOPS! pic.twitter.com/QEpwMhzb58

— Vero Beach Police (@VeroBeachPD) July 28, 2019