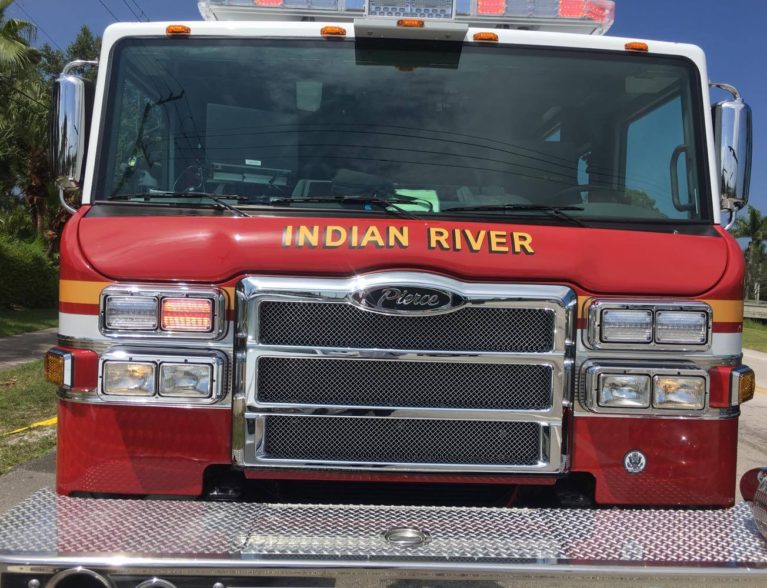 INDIAN RIVER COUNTY — Two brothers escaped a house fire without injuries Saturday after they woke up to barks from the family dog followed by 'crackling' sounds, fire rescue crews said.
"It could have been a lot worse," Indian River County Fire Chief Joe Kovaleski said. The fire left the home uninhabitable; the teens, their mother and dog are staying with other family members in the meantime, Kovaleski said.
Firefighters responded to the blaze about 6:30 a.m. Saturday at a single-story home on 37th Drive Southwest. The mother was at work when the fire ignited, Kovaleski said.
One of the teens woke up to barking sounds from the family dog, which was standing next to the garage door.
The teen opened the door and saw the garage erupted in flames, Kovaleski said. The teen grabbed his brother, the dog, left the home and called 911, Kovaleski said.
Upon arrival, firefighters saw heavy smoke and flames coming from the garage. The flames reached the attic, Kovaleski said.
Fire crews extinguished the blaze about 7 a.m., Kovaleski said. The garage was heavily damaged from the flames and the attic and rest of the home had smoke damage.
"The occupants were able to save a lot of furniture and personal belongings since the fire didn't spread to the rest of the home," Kovaleski said. "Fire crews had it under control."
No other structures were endangered. The state fire marshal will investigate the cause of the blaze.