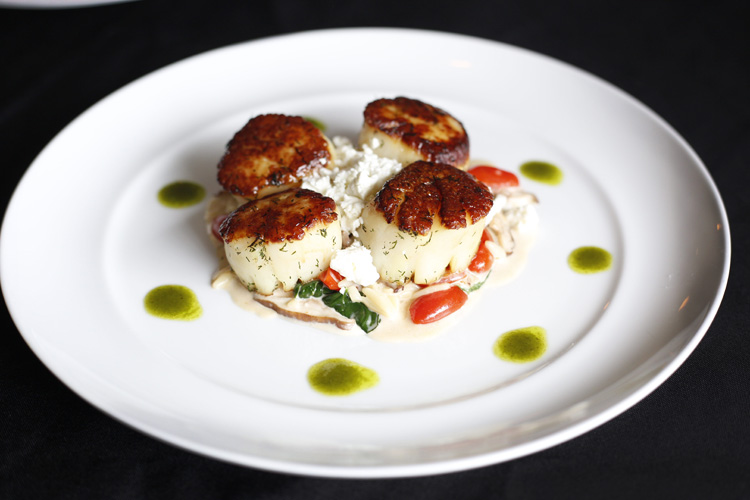 With each passing year, we become more enamored of the Blue Star Brasserie toward the northern end of 14th Avenue in Vero's old downtown.
When chef Kitty Wagner opened this restaurant as the Blue Star Bourbon Bar and Southern Kitchen in 2013, the ambiance was about as casual and roughhewn as the name.
Today, it is a sleek upscale bistro, and when we visited recently, the piano stylings of Jim Van Voorheis provided an excellent backdrop for an evening of intimate and gracious dining.
Seated far enough from the piano for easy table conversation, our very attentive server quickly took our wine order.
For starters, I decided to try the summer watermelon salad ($12) and my husband opted for the chicken liver pate ($12).
The salad was delightfully refreshing, with slices of sweet watermelon set atop a bed of arugula, and adorned with crumbled feta, pickled red onion and calamata olives.
My husband's richly flavored pate was served chilled with an apple plum chutney. The combination of the pate and chutney atop crostinis made for an absolutely indulgent appetizer.
My husband said on our next visit, it will be a tossup for starters between the pate and Kitty's escargot sautee – a deconstructed dish he loves with tender snails surrounded by bacon, shallots and slices of apple, and a square of puff pastry on the side.
Then for entrées, I ordered the lobster risotto ($42) and my husband went for the chargrilled local swordfish ($34).
The very thick cut of swordfish was cooked perfectly, nice and moist, complemented by pistachio wild rice, tender spears of asparagus and topped with a tarragon hollandaise.
But my lobster risotto was absolutely amazing – chunks of sweet tender meat from a pound-and-a-half Maine lobster, removed from the shell, and served on top of a shitake, leek, tarragon, parmesan, white wine risotto. Superb.
For dessert on this most recent visit, we shared an order of the Blue Star's delicious homemade warm blueberry rhubarb crisp, topped with vanilla bean ice cream (see the Insight cover story on Page 28 for more about vanilla) and whipped cream. A decadent end to a spectacular meal.
This summer's special deal is a free bottle of wine with every two entrées or four appetizers.
Dinner for two, if you have an appetizer, entrée and dessert, can still run $100 before tip – even with the wine special – but it can come in considerably less if you dine light on the interesting selection of small plates.
In her years in Vero, Chef Kitty has presided over a number of kitchens, and perfected a number of tried and true dishes.
What you know for sure when you visit is that you are dining with one of Indian River County's top chefs.
The reviewer dines anonymously at restaurants at the expense of Vero Beach 32963.
Blue star
Hours: Tuesday through Saturday, 5 p.m. until late
Beverages: Full Bar
Address: 2227 14th Avenue, Vero Beach
Phone: 772-492-9057
Photos by: Kaila Jones
Click HERE to see more or buy photos