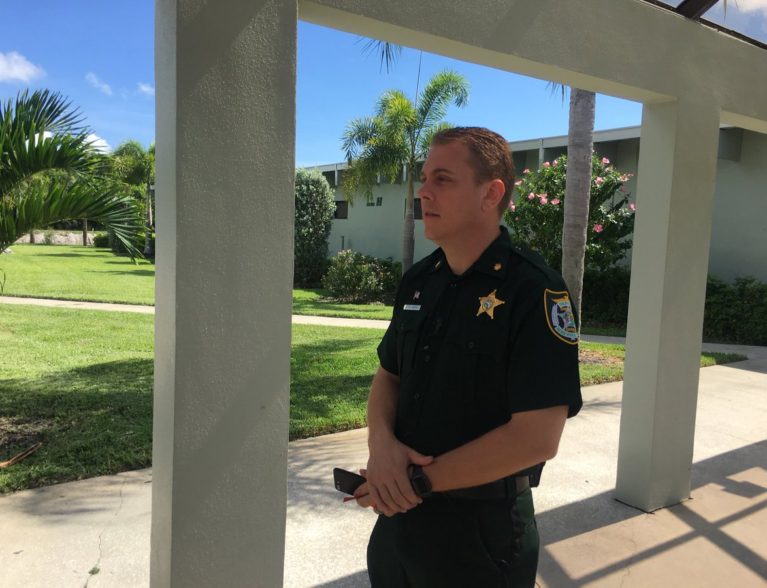 INDIAN RIVER COUNTY — A 32-year-old man who confessed to shooting two people – including his girlfriend – after finding the woman in bed with another man, faces murder charges after the victims died from their injuries at hospitals, deputies said.
"It was a really bad decision," Indian River County sheriff's spokesman Maj. Eric Flowers said of suspected shooter James Bryon Easling Jr. "A person who became enraged had a weapon and made a decision to take lives."
The deaths are the third and fourth reported homicides to happen in the county this year, Flowers said. Sunday's incident occurred in a short time frame – less than 20 minutes, Flowers said.
Easling, a deliveryman for Pizza Hut, was coming from work and still had on his uniform when he found 27-year-old Amber Smith – his on-and-off girlfriend and mother of his child – in bed with Jeremy Mcauliffe, 26, Vero Beach, reports show.
Smith was dating Mcauliffe while Easling and Smith were in the process of separating, Flowers said.
"I don't believe he knew Amber was dating Jeremy," Flowers said. "James and Amber had been together for several years."
Easling, of the 1300 block of 20th Court Southwest, was charged with two counts of first-degree murder. Easling was being housed separately Monday at the Indian River County Jail without bond.
Smith's mother, who was also at the home, called 911 about 1 p.m. Sunday. She told dispatchers "her daughter was shot by her boyfriend" at the residence, reports show.
Easling, who also lived off-and-on at the residence, got into an argument with Smith in the kitchen after finding Mcauliffe inside the home.
"There's no evidence that leads us to believe (Easling) caught them in a romantic encounter," Flowers said.
Deputies said Easling yelled for both Smith and Mcauliffe to 'get out.' Smith's mother said she heard a loud bang and then saw her daughter drop to the ground, reports show.
The woman said Easling was "standing there with an outstretched hand holding a gun," according to reports.
Mcauliffe then tried to rush Easling and was also shot, authorities said.  Mcauliffe did not live at the residence and was just visiting, Flowers said.
Easling had taken the magazine out of the handgun and left the weapon on the kitchen counter before deputies arrived. Deputies ran inside the residence to treat Smith and Mcauliffe, who were both shot once in the chest, Flowers said.
Deputies found Easling, unarmed, in the front yard. Easling immediately began telling deputies he shot two people.
"Easling confessed to everything," Flowers said during a Monday news conference.
*Click the audio icon in the lower right hand corner for sound. 
Indian River County Sheriff's Office spokesman Maj. Eric Flowers details Sunday fatal double shooting that happened in the 1300 block of 20th Court Southwest. James Easling, 32, was charged with two counts of first-degree murder and was being held at the county jail without bond. Watch here.

Posted by Nick Samuel on Monday, July 22, 2019
Deputies recovered the gun from inside of the home. Deputies said Easling's child also lived at the home where the shooting occurred; it was unclear if the child was present during the incident.
Smith and Mcauliffe were both taken by ambulances to hospitals, where they later died Sunday, Flowers said. Smith was taken to Cleveland Clinic Indian River Hospital while Mcauliffe was taken to Lawnwood Regional Medical Center & Heart Institute in Fort Pierce.
Flowers said Easling became emotional when he learned both victims died. It was unclear if Smith and Easling had previous domestic-related incidents.
Easling had no previous criminal history within Indian River County, Flowers said. Easling has an arraignment at 8:45 a.m. Sept. 6, court records show.
No further details were immediately available.