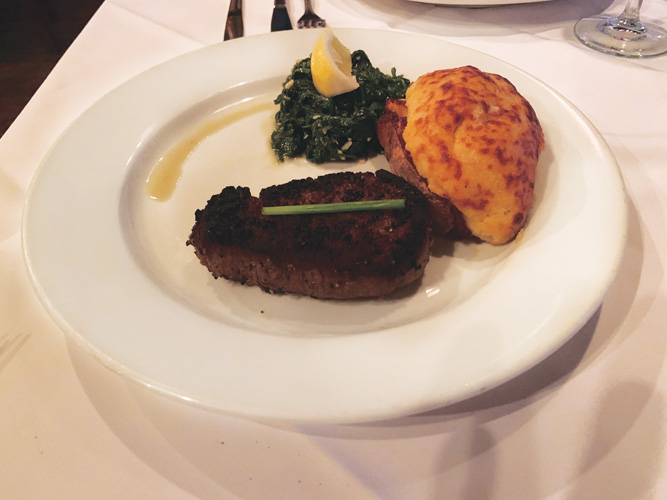 After a several-year absence, Vero's downtown dining district once again has a steak house on 14th Avenue – and this time it's a mighty good one.
The steak house is the venerable Vero Prime, which moved last week from its outpost on 21st Street to the 14th Avenue restaurant space most recently occupied by Jake's Tex-Mex.
We were not huge fans of Jake's, and were never very enthused about the old 14th Avenue Steakhouse, a mediocre dining establishment that somehow hung on in this spot for more years than anyone can remember.
But Vero Prime is good! And the even better news is that in addition to steaks, Vero Prime's owner, Roger Lenzi, is also bringing back many favorite dishes from his sorely missed Italian trattoria, Avanzare. Vero Prime, according to Lenzi, is going to be kind of a restaurant two-fer. Talk about optimizing your chances for success!
So last Saturday night, we dropped by. We were accompanied by two companions who tipped us to the location-change by virtue of having dined in the old building on its final night.
We parked in the back lot between the restaurant and the courthouse, entered through the rear bar area (which was packed) and made our way to the front, which had been very tastefully redone.
For starters, I ordered the fire grilled Caesar salad, my husband went for the wedge, one of our companions chose the house salad, and the other opted for the Italian wedding soup.
The salads were great (I really like the fire grilled romaine with a Caesar dressing) and our companion described the wedding soup as authentic and flavorful.
Then for entrées, my husband and I went for Vero Prime steaks – the prime filet ($52) for him; the Vero Prime signature steak ($28) for me – while our companions picked the veal Milanese ($24) and the veal and spinach ravioli ($22).
The Avanzare entrées got high marks from our companions. The Milanese was perfectly prepared – the scaloppini had a crisp, parmesan crust, and it was topped by an aromatic blend of lemon, arugula and tomatoes.
My steak was extremely tasty and was accompanied by lemon garlic spinach and some of the best roasted mushrooms I have had in a long time. But my husband's prime filet was the pièce de résistance of the evening – perfectly cooked Pittsburgh style, rare and luscious on the inside, but with a charred outside crust. Served with a twice-baked potato and garlic spinach, this is his idea of the quintessential steakhouse dinner.
For dessert on this evening, we shared a tiramisu and a bread pudding. Our companions said the tiramisu – with secret ingredients that included mascarpone and mini-chocolate chips – was "out of this world."
Dinner for two with a modest bottle of wine could range from $90 to $150 before tip, much less if you go for some of the pasta dishes.
Whether you are craving a great steak house experience or some of those wonderful dishes you remember from Avanzare (did I mention the short-rib lasagna?), the new Vero Prime should enjoy a long-run in its new quarters.
I welcome your comments, and encourage you to send feedback to me at tina@verobeach32963.com .
The reviewer dines anonymously at restaurants at the expense of Vero Beach 32963.
Vero Prime
Hours: Monday through Saturday, 5 p.m. to late
Beverages: Full Bar
Address: 2023 14th Avenue, Vero Beach
Phone: 772-226-7870
Photos by: Kaila Jones
Click HERE to see more or buy photos