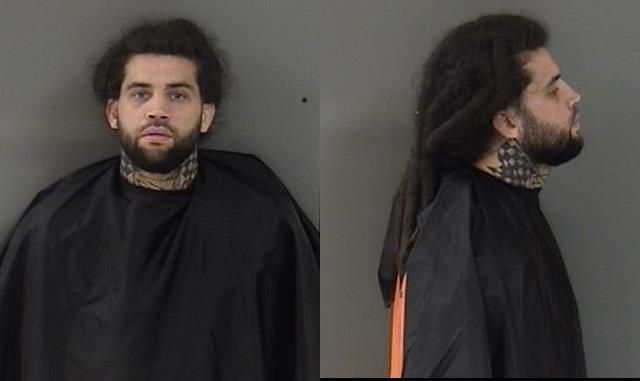 INDIAN RIVER COUNTY — Deputies said a 28-year-old Miami man traveling with heroin and fentanyl was arrested after fleeing from a traffic stop, then reaching speeds of more than 100 mph on Interstate 95.
Deputies worked with Palm Bay police to track the vehicle down, driven by Thomas Ibarra. Authorities searched the vehicle and found plastic bags labeled 'incense' containing a kilogram of heroin and fentanyl, reports show.
Fentanyl is a synthetic opioid – nearly 100 times stronger than morphine – used to treat severe pain. The estimated street value for the heroin and fentanyl was about $150,000, deputies said.
Deputies also seized $2,706 in cash from Ibarra.
"Thanks to our partnership with the Palm Bay Police Department, our deputies were able to get this dangerous man off the streets. The quantity and purity of the fentanyl seized is beyond deadly," Indian River County Sheriff Deryl Loar said in a statement. "We continue to see opioid overdoses in our community and are working hard to eradicate it from the streets. If these drugs made it back to Palm Bay, we are sure they would have ended up in the hands of users within and around our community. This was a great team effort by our detectives, deputies, K-9, and aviation unit. "
Deputies arrested Ibarra on charges of trafficking in fentanyl and fleeing and eluding. Ibarra was held Thursday at the Indian River County Jail on $53,500 bond.
It was unclear if the passenger in the vehicle was also arrested.
The narcotics unit for the Palm Bay Police Department was monitoring Ibarra and another man, identified as the passenger, Wednesday for an ongoing drug case. Ibarra and the man had left Miami with narcotics and began to travel in a bronze Nissan Altima on northbound I-95, police said.
Police contacted Indian River County deputies for assistance when the vehicle began to enter Indian River County. Deputies conducted a traffic stop on the Nissan near mile marker 147.
Deputies said Ibarra drove off from the traffic stop and got off on the Vero Beach exit. Ibarra then got back on northbound I-95 and weaved in and out of traffic at speeds of more than 100 mph, deputies said.
A sheriff's helicopter tracked the Nissan exit at County Road 512. Deputies conducted a second traffic stop and removed Ibarra and the passenger from the vehicle.
Inside, deputies found the bags of narcotics.
Deputies arrested Ibarra and took him to the county jail. Ibarra has an arraignment at 8:45 a.m. Sept. 6, court records show.