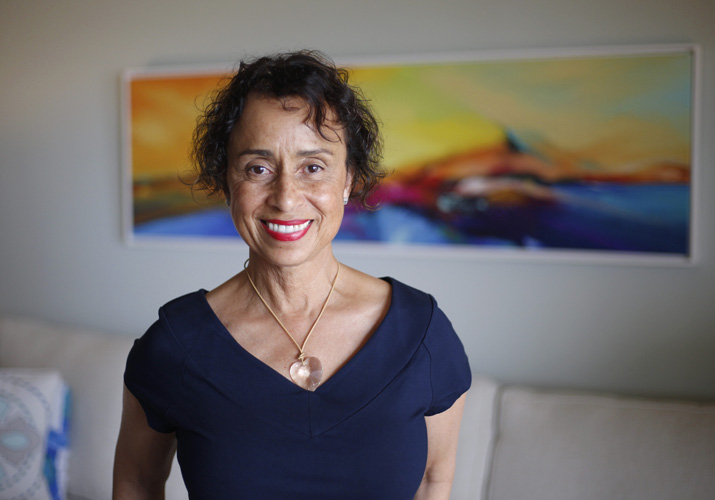 Claudette Roche has made a career out of helping people fit in, whether in the setting of her new hometown or on the set of a Hollywood movie. After 30 years as an actress, Roche is now a dialogue and accent coach, teaching actors how to sound like a foreign character and teaching foreigners how to sound more American. In 2015, she and her husband left L.A. after 25 years and moved to Vero's barrier island. Today, most of her clients come to her via Skype, so she can gaze out of her oceanfront condo while connecting with clients around the world. As Vero Beach 32963 resumes Incoming Tide, a column we started early in the paper's decade of publishing, Roche typifies the newcomer we like to feature who catches our eye and broadens our town. Here is how she's fitting in:
When Claudette Roche and her husband, Jeff Woolnough, a Peabody-award winning director, moved into an oceanfront condo in Vero, they left nearly everything they owned in California – except their clothes. And Roche eventually ditched those too, when her L.A. wardrobe – nearly all of it black – suddenly felt unwearable. A visiting friend from Ireland even commented that Roche "wasn't looking very Vero."
"I started to notice a uniform here of nice pressed capris and little J. McLaughlin tops," she says.
Today her all-black outfits are gone, traded for airy blues and whites.
"I've bought into it a little bit. I actually think it's pretty."
What she didn't have to modify was her accent: Standard American, despite her Jamaican parentage, London birthright, childhood in Montreal and quarter-century of adulthood in Los Angeles.
Today, Roche, an actor by training, works as a dialect and accent coach. While tops and capris may help her fit in here, she advises clients who want their speech to fit in. For that, the self-taught Roche has honed an ear for pitch patterns, intonation, regionalisms and timbre.
"The bulk of my work is working with corporate executives from another land who need to modify their sounds," she says. "They're tired of people asking where they're from. It means they're different, and most people want to blend in."
Roche's own heritage includes a slew of nationalities, almost as diverse as the list of accents she can replicate. It only takes moments of conversation before Roche has suddenly delivered a laugh line as a Muscovite or Parisian.
Born in London to Jamaican immigrants, Claudette was 7 when she and her parents moved to Montreal. There, it wasn't so much the French that made her feel she would never fit in. It was the pants.
"What's with pants? I came from England. I didn't own pants. I hated pants."
When the Canadian winter descended, she still resisted. "Pants under my coat? I can't do that look. I'd rather suffer."
She didn't budge from the anti-pant stance until she was a teenager.
As for adjusting to Quebecois French, she never became fluent, and would proudly put on her London accent to annoy her schoolmates, she recalls.
At 25, set on becoming an actress, she packed her bags for Toronto. "I'm an Anglophone," she says. "There wasn't much work in Montreal for Anglos."
Toronto had a thriving film and TV industry and was less intimidating than L.A., but she knew no one. Then, walking down busy Yonge Street, she met her future husband, Jeff Woonough, walking with a mutual friend. Both worked in television production. They exchanged phone numbers and two days later, she called Woolnough to ask for information about the ongoing Toronto Film Festival.
"How does a film festival work?" she asked.
That afternoon, they went to "Educating Rita" and two more that same day. By nightfall she was in love. "I was struck; I was done."
A 2005 Peabody Award winner for the sci-fi TV series "Battlestar Galactica," Woolnough's long list of directing credits includes episodes of the History Channel's "Vikings" and Syfy's "The Expanse." The Vero Beach Wine and Film Festival began the year after they moved to Vero and Woolnough was quickly recruited, serving in 2017 as Honorary Festival Chair and this year as judge.
The young filmmakers and actors the festival brings to town might remind Roche and Woolnough of their own start in the business. Roche looks back with mixed emotions on her years as a budding actress in Toronto, her talent for accents winning her work on radio dramas.
"I did a lot of work in Toronto, but then it felt like it was drying up," she says. "I remember getting discouraged, walking home from CBC-TV to see about a newscaster job. It didn't go well, and when I got home, there was my envelope from the U.S. government – my green card."
When her husband got his card, too, they headed for L.A. It was 1990.
Roche laughs as she recalls seeing what she thought was the working wardrobe of Southern California sex workers.
"They were wandering in and out of fancy shops and restaurants, wearing short shorts and tube tops and huge platform shoes. I said to my girlfriend, 'Isn't it great how accepting people are of all these prostitutes?' And she looked at me and said, 'Those aren't prostitutes.' I couldn't believe it."
As her husband continued his directing career, Roche set about auditioning for roles.
"I loved it. I worked almost immediately. I did commercials and lots of TV. It was good," she recalls.
"But as you're getting older, things start to change, including you. You're like this schizo person trying to fit in. There's a certain behavior in actresses that I just don't buy into – like, 'Yay! I'm me!' That's not what I'm about. And I remember thinking, I'm not having fun."
Over time, her dialect and accent coaching became more satisfying than her acting jobs. She won Backstage Magazine LA's Readers' Choice award two years in a row for Favorite Dialect/Accent Coach, and in 2010 was named one of the top five Accent Coaches by Hollywood Weekly.
Then came the realization that she and her husband could both work remotely; L.A. didn't have to be home base.
As the couple began looking for a new hometown, they first looked abroad. Dublin, where they spent a life-altering long holiday, proved too cold and too expensive. They considered Seville, Spain, but that didn't feel right either. By then Roche's mother had moved to Palm Bay, and they decided to give Florida a try too.
"Palm Bay was nice, but we kept looking. Then we found Vero, and that was it."
In the coming weeks, Roche will get a chance to work on her German accent, as she goes to meet a half-sister she never knew she had. The revelation came about after she had her DNA tested several years ago. "Nothing was a surprise to me."
But then in February she got an email from a woman in Germany who saw on her DNA analysis that she might be closely related to Roche. It turned out to be Claudette's half-sister, the product of an affair her father had when he was young, and which Roche learned of seven years ago.
"We knew there was a baby, but we didn't know her name. All we could do is hope she found us."
She did. Beatrix Labeck lives in Wiesbaden and Roche is headed there at the end of July. The local newspapers have already been alerted, she says, and are planning to cover the reunion.
In the meantime, a more distant – though geographically closer – relative has popped up in John's Island. Susan Brown, a snowbird and fellow Canadian, is also connected to Roche.
"Four days after I found my half-sister, which was already overwhelming, I went back to the Ancestry.com website and was looking at a page I hadn't seen before. 'These are all your relatives' – and there were probably 20,000 of them. I'm flipping through and I see a woman I met at a party two years ago, and then saw her again at a Super Bowl party. Turns out, we're related. We're something like fifth cousins – and she's right down the road."
If you've come across a Vero newcomer you'd like to introduce to island readers, let us know by emailing genz.michelle@gmail.com, with "Incoming Tide" in the subject line. Please include contact information.