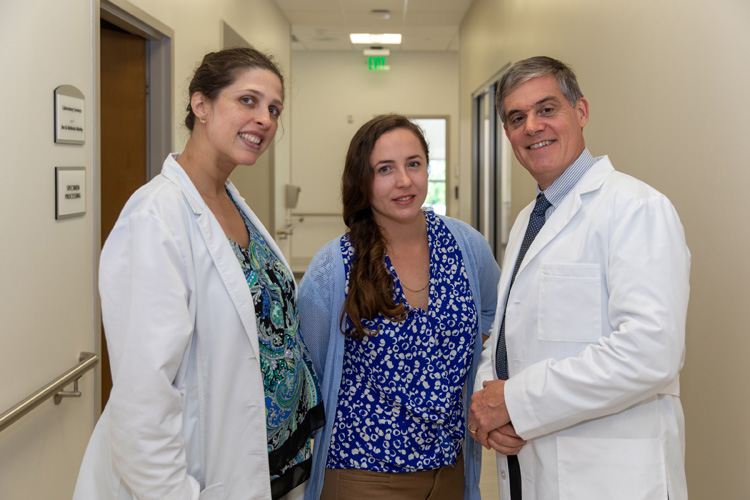 If you think you know all you need to know about skin cancer, here are two words of advice – think again.
For example, polls show most Americans think melanoma is the most common form of skin cancer. It's not.
According to the Skin Cancer Foundation, basal cell carcinomas take that dubious honor with some 4.3 million new cases diagnosed each year. After that comes squamous cell carcinomas, with just over 1 million cases a year, while melanoma brings up the rear with close to 100,000 new cases diagnosed annually.
OK. That's three types of skin cancer. What's so tough about that?
Well, for starters, fully 56 percent of Americans do not realize that some skin cancers can and do spread to other parts of the body, including the liver and brain.
Moreover, there are no fewer than eight different types of basal cell carcinomas while the squamous cell variety adds at least 10 more variants. And then there are four separate subsets of melanoma, the deadliest skin cancer out there.
That's 22 different types of skin cancer, and accurately diagnosing exactly which type a patient has and determining the best treatment for the condition has proven to be a tall task.
That's why Dr. James Grichnik, director of the Scully Welsh Cancer Center at Cleveland Clinic Indian River Hospital, dermatologist Dr. Lilia Correa and imaging specialist Katharine Hanlon are delighted they have access to an imaging tool that employs Reflectance Confocal Microscopy, or RCM.
"When a patient comes to the clinic," Grichnik explains, "the first thing that we do is look at them clinically. Sometimes we know right away – this is a skin cancer or this is not a skin cancer, but there are subgroups of lesions where you look at them and you look at them again and use your surface microscope, and you know what? You're still just not sure."
What could be an early-stage melanoma could also just be an area of sun-damaged skin. And as Grichnik puts it, "confocal is really good at helping us sort those out."
Why does that matter? The most obvious reason is scars.
"In order to get a diagnosis from a pathologist," Grichnik says, "you have to remove a fair amount of tissue so that they have enough cells to make a diagnosis, and you are going to have to scar that person … [even though] many times it's going to turn out to be a benign lesion.
If the lesion is benign, "we're putting a scar on your face that didn't need to be there. By using this technology, we can avoid biopsying those benign lesions," and leave no scars on the [patient's] skin.
How is that possible? Low energy laser light.
The confocal can actually "focus light down through the skin and look at light that's returning from different levels in the skin," Grichnik says. "You can see the keratinocytes in different stages of differentiation. You can see the dermal epidermal junction when you leave something called the epidermis. Then you can get into the dermis where you actually see blood flow. So you see cellular detail," all without any cuts or incisions or the scars biopsies leave behind.
New York's Memorial Sloan Kettering Cancer Center agrees with Grichnik's evaluation. It says "RCM is an exciting, non-invasive imaging tool that provides improved accuracy in skin cancer detection. The technology uses a low-power laser to provide real-time imaging of the epidermis and superficial papillary dermis. It captures the natural reflectivity of different cellular structures and can be quite useful to diagnose both benign and malignant lesions."
The American College of Genetics in Medicine is also on board the RCM bandwagon, saying "RCM imaging is unique in that it allows for the evaluation of the skin at the cellular-level and has been shown to increase the accuracy of non-invasive diagnosis of common skin neoplasms, particularly in cosmetically and functionally sensitive areas such as the face."
The American Academy of Dermatology and the College of American Pathology also have recognized RCM's effectiveness.
That said, RCM is not a simple tool to use. The U.S. National Library of Medicine says "a minimum of four to six months of training, including the evaluation of several thousands of cases, is required for a clinician to reach an acceptable level of diagnostic accuracy and expertise."
Imaging specialist Hanlon says "it's a similar art to learn how to read the images as it would be to do a dermato-pathology fellowship. Pathologists have to look at a lot of slides to learn how to read those slides. We need to look at a lot of pictures to learn how to read these pictures."
That kind of proficiency and innovation is especially important here in Vero Beach, where delivering a more accurate diagnosis and eliminating the risk of scarring for patients who come to Scully-Welsh worried about skin cancer is, in the dermatology team's eyes, a major plus for everyone.
The Scully-Welsh Cancer Center at Cleveland Clinic Indian River Hospital is at 3555 10th Court in Vero Beach. The phone number is 772-563-4673.