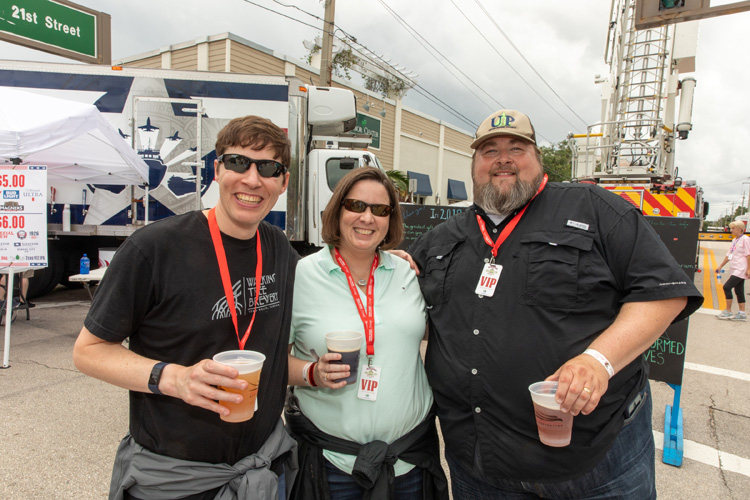 Good times were on tap at the fourth annual Burgers & Brews: An American Heritage Celebration, hosted by United Against Poverty, with presenting sponsor Southern Eagle Distributing & the Peter W. Busch Family Foundation.
"This is a wonderful event because we bring the whole community in and make them aware of the opportunities that United Against Poverty offers to people who want to lift themselves up," said Barbara Lowry, UP board chair.
Proceeds from the street festival will help fund UP programs and their goal of inspiring and empowering individuals who are struggling economically to lift themselves "up" to economic self-sufficiency. Programs include crisis care, case management, transformative education, food and household subsidies, employment training and referrals to collaborative social service providers.
The grills weren't the only thing sizzling in the summer heat. Even the pavement hissed as raindrops briefly fell, cooling things off only slightly as fest-goers sampled their way down 14th Avenue, sipping suds and nibbling on sliders created by 11 local master chefs vying for the title of Best Burger in Indian River County.
American Grill & Bar and Wilke's 14 Bones tied for first place, each earning the Judges' Choice Award. A Sicilian grill burger with bacon and a caramelized onion jam served on a Gorgonzola burger with spicy lemon honey remoulade was American Grill's unique combination. Wilke's got the judges' attention with a burger topped with pulled pork, cheddar cheese, ranch dressing, onion straws and barbecue sauce.
For the second year in a row, participants in The Source's Dining with Dignity program took home the People's Choice Award, shaking things up a bit with a JFC (Jesus Fried Chicken) breaded chicken breast, topped with dignity sauce, lettuce and tomato on a waffle.
Chefs from American Icon Brewery, Big Shots Golf, Cobalt, Ono Luau, Post & Vine, Sean Ryan Pub, Southern Social and The Tides had dressed up their selections with onions, a variety of peppers, chorizo, eggs, brined pickles and "special" sauces.
Attendees could also grab snacks from food trucks, visit with friends at picnic tables, as youngsters played in the children's area, shop at vendor booths or try their hands at hitting the bullseye of the celebrity dunk tank. Ladies of Soul, East Harbor and Pirate Flag Band, a Kenney Chesney tribute group, provided the musical entertainment, playing throughout the day and into the evening.
There's nothing more American than apple pie, and contestants of the pie-eating contest threw themselves with wild abandon into scrumptious pies from Fresh Market. Emcee Hamp Elliott cajoled and heckled contenders, who did their best to consume the most within three minutes, with Jason Patzer taking home first prize and a belly full of pie.
Closing out the afternoon's activities, the Vero Beach Police Department and Indian River County Sheriff's Office gave new meaning to the dog days of summer with K-9 demonstrations, showcasing their four-legged partners' abilities.
"Burgers & Brews was amazing," said Annabel Robertson, UP executive director. "We had a record crowd of over 5,000 people and raised a record amount of money. It was a wonderful opportunity to celebrate our community, each other and our great country."
For more information, visit upirc.org.
Photos by: Denise Ritchie
Click HERE to see more or buy photos