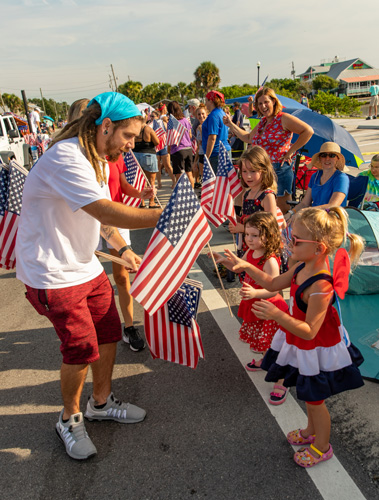 The Sebastian Lions Club and Masonic Lodge No. 232, in collaboration with the City of Sebastian and the Sebastian Police Department, rolled out the red, white and blue carpet last Thursday for the 48th annual July 4 Parade and Freedom Festival to celebrate Independence Day.
"We formed a partnership with the Masonic Lodge last year to continue on with the Freedom Festival together," said parade chairman Tony Anunziato, event co-coordinator with festival chair Dr. Norman Meyer. "We start in February to put everything together for the parade and the festival."
He says they work closely with the city, which puts on the fireworks display, and the police, who keep everyone safe, adding, "It's a total commitment from all of us."
Festivities got off to a running start with the Freedom Run 5K to benefit Substance Awareness Center programs, including the LifeSkills Training Prevention program taught in all Indian River County middle schools and six elementary schools, as well as its treatment and recovery support programs.
Roughly 240 runners participated in the sunrise 5K, with Benjamin Bayless from Vero Beach coming in first place overall and Diane LaBar of Palm City taking first place in the women's division.
Next, 15 minutes before the parade began, Coldwell Banker Paradise agents and friends continued their longstanding tradition of handing out 5,000 American flags to the crowds lining the 2-mile route from the Masonic Lodge, along Indian River Drive to Riverview Park.
"They ran out, so we know we had more than 5,000 people," said Anunziato.
More than 60 groups braved the oppressive heat to march in the parade, waving to the enthusiastic crowds as they passed out goodies along the way. Offering a patriotic conclusion to the parade, Sebastian Skydive parachuters descended to the park trailing enormous American flags.
The throngs then made their way to the family-friendly festival to enjoy the numerous food, craft and vendor booths as well as live entertainment throughout the day, ending with fireworks over the lagoon at dusk.
"The Lions love to give back to the community," said Anunziato, noting that they donate back the money they raise through scholarships and the support of local charities and food banks.
Photos by: Denise Ritchie
Click HERE to see more or buy photos