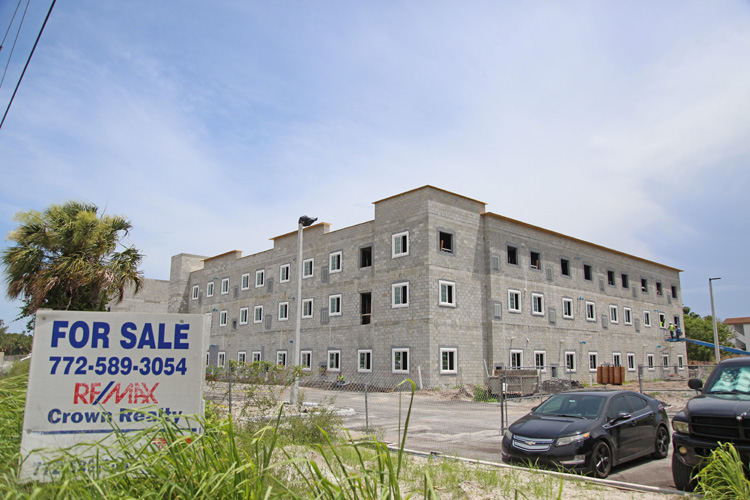 A new assisted-living and memory-care facility is finally taking shape along U.S. 1 near Sebastian – years after its initial concept was approved.
Developer Raffi Alaverdian said he hopes to have construction on the 125-unit center complete by the end of this year and open next January.
"Our goal was earlier than that," Alaverdian said of completion and opening. He explained that the site proved more challenging than anticipated but would not elaborate.
The Pleasantville Assisted Living Facility is under construction next door to Reflections, a residential neighborhood on the east side of U.S. 1, just north of Schumann Drive in unincorporated Indian River County.
The 105,000-square-foot building sits on a 7.4-acre site and has been years in development.
Reflections of Sebastian LLC bought the property from Graves Brothers Co. in 2004, paying $570,000, according to county records. The land was transferred from Reflections Commercial LLC to Pleasantville Reflections LLC in March 2016.
The property was granted conceptual approval in December 2011, according to Senior Planner Ryan Sweeney, of the Indian River County Planning Division, but the final site plan wasn't approved until October 2015.
"It was certainly slow to develop over the years," Sweeney said.
The building permit was applied for in October 2017 and issued in November 2018.
"That's on the longer side of typical," Sweeney said of the span between application and issuance. He explained that for an assisted-living and memory-care facility, a longer timeframe isn't a surprise given the number of details that need to be addressed to ensure health and safety.
Alaverdian declined to comment on his purchase price for the property as well as the amount invested in the construction. Instead, he focused on what the residential facility will accomplish once up and running.
The property will consist of 99 assisted living beds and 24 beds for memory care in a total of 98 units. Some units will hold two beds – but no larger.
"It is a great location," Alaverdian said of the traffic count and visibility along U.S. 1, noting that market studies done over the past five years supported his decision to continue moving forward on the project.
"Everything was positive," he said.
Alaverdian said Concordis Senior Living will operate Pleasantville Assistant Living. The company already runs 11 other assisted-living facilities in Florida and another two in Louisiana and Virginia.
"It's going to be very homey," Alaverdian said, and not at all institutional.
Pleasantville Assisted Living is the second such facility in the pipeline in the county, according to Sweeney. Certus Senior Living, a 60-some unit project slated for construction on U.S. 1 just north of 53rd Street, is fully permitted but has not yet broken ground.
Sweeney said he suspects more such facilities will come to Indian River County over time as the population continues to age and demand for assisted living space increases.
"No one wants to build a multimillion-dollar facility" on spec, Sweeney said.