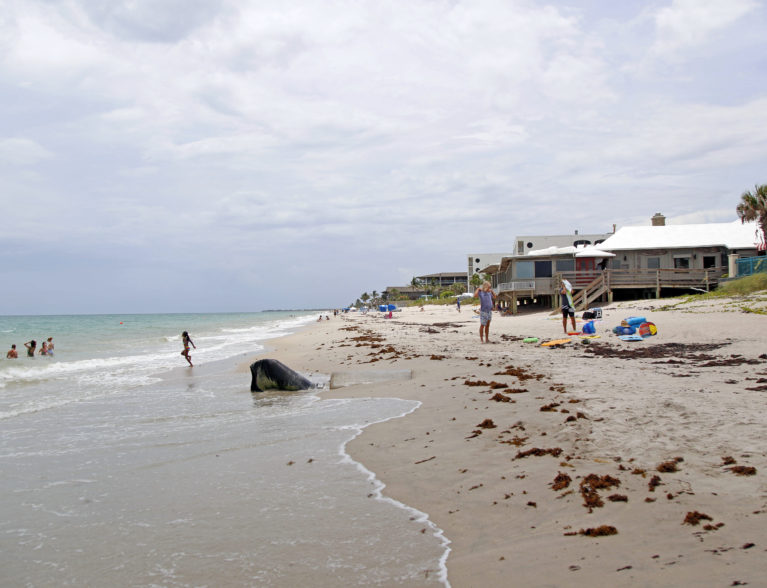 The money needed to replenish Vero Beach's eroded shoreline survived spending slashes by Gov. Ron DeSantis in his $90.98 billion budget for the fiscal year that began July 1.
DeSantis used his line-item veto power to cut more than $131 million from the budget last month, but roughly $1.9 million Indian River County requested to infuse up to 155,000 cubic yards of sand on beaches from Tracking Station Park to Castaway Cove within the city's limits was spared.
Both county and city officials lauded the state for allocating the funds for the project, which will help pay engineers, biologists, miners and truckers needed to add sand to beaches and dunes along the city's oceanfront.
"This is a project we have been planning to do for several years and we've been going through the permitting process and applying for funding," County Administrator Jason Brown said. "This is a key part of our beach restoration plan." 
Vero Beach City Manager Monte Falls praised county staffers for working diligently to secure funding for the project, expected to begin this fall.
"It's great news. We've been working with the county for years to get this project to the point where it became a reality and they were finally successful in getting the money allocated from the state," Falls said. 
The Federal Emergency Management Agency has committed $931,448.63 to the project. The county will fund the balance of the expected $4.8 million cost, county officials have said.
Vero Beach is barred by charter from using its own dollars for anything but emergency dune repair after a storm as a result of a referendum in the 1980s. The county collects bed tax money from hotels within the city limits and uses part of those funds for sand replenishment projects on island beaches, including in the City of Vero Beach.  The last large erosion-control project completed in the county was from Windsor to John's Island. The Vero Beach project has been delayed several years due to lack of funding.
Preliminary models show that beaches have been retreating up to 1.7 feet per year along the island shoreline due to erosion. 
The project, slated to start in November, will use up to 155,000 cubic yards of sand to replenish the city beaches. County officials, however, estimate roughly 125,000 cubic yards of sand could get the job done. Stewart Materials based in Fort Pierce will provide the upland sand needed for the project, county officials said. Inland sand is dug out of the ground at sand mines and trucked to eroded beaches.
Several of the city's public beach parks will be used as construction staging areas and could be closed or have limited access once the project gets underway, county officials have said. Neighboring residents and businesses will be notified of the approximate start date and duration of the construction a couple months prior to its start.