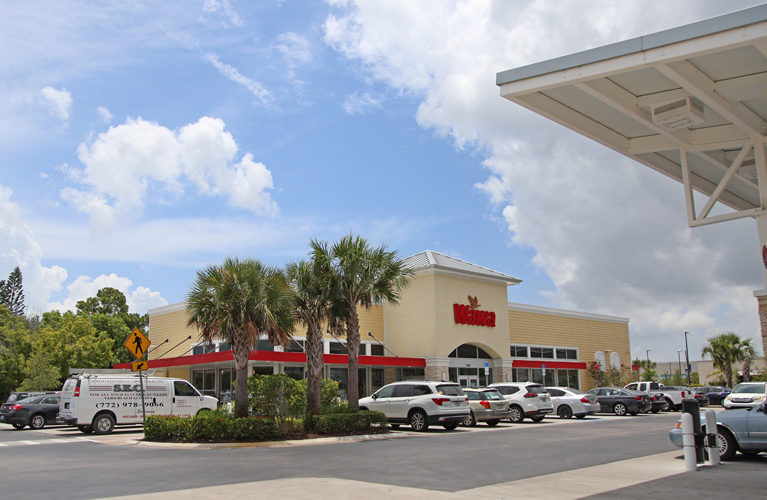 Wawa's empire could be expanding locally, according to county documents that indicate plans for two new locations here.
The wildly popular convenience store and gas station chain has submitted preliminary plans to the county for two locations – one in north county near Gifford and a second to serve customers in south county on Oslo Road, documents show.
Plans for the site at 4495 U.S. 1 and 45th Street near Grand Harbor call for a 6,119-square-foot store with 16 fueling stations on roughly 2.3 acres. The property was purchased on June 14 for $1.2 million by LG Vero 1 LLC, a Florida limited liability company.
The parcel was part of the now- shuttered Quality Fruit Packers of Indian River property, said T.P. Kennedy, an agent with Collier Crawford LLC who helped close the deal. Collier Crawford is a Vero Beach real estate development, consulting and brokerage firm.
At 4150 Oslo Road, Wawa is proposing a 5,943-square-foot store with 16 fueling stations, documents show. That store would be built on roughly 2.9 acres that are owned by Arizona resident Bruce Stamile, county records show.
Wawa typically executes long-term leases with developers who buy land and build the company's stores, local realtors said.
Wawa representatives have met with the county several times in recent weeks to finalize plans on both projects, senior planner Ryan Sweeney said. The plans have been reviewed by the Technical Review Committee, which suggested only a few minor tweaks to the site plans.
"They haven't been approved just yet, but they both seem to be working diligently toward approval," Sweeney said.
If both Wawa projects are green-lighted, they would be the county's third and fourth locations. Wawa in 2016 opened its first Indian River County store at U.S. 1 and 12th Street. A second store opened the following year at State Road 60 and 90th Avenue near Interstate 95.
Sweeney didn't know when Wawa hopes to break ground for the new stores, but noted plans for the store at U.S. 1 and 45th Street are progressing quickly. Wawa declined to comment on the proposed locations, but a company spokeswoman opined on why the stores are so beloved. Fresh food and store associates who develop a family-like bond with patrons are among the reasons, Wawa spokeswoman Jennifer Wolf told Vero Beach 32963 in an email.
The chain, which is headquartered in Pennsylvania, has a fanatical fan club of patrons who extol the made-to-order-meals, gourmet coffee and the store's friendly staff. Customers have even exchanged wedding vows in the stores. The chain operates 840 stores in six states and is expanding rapidly, especially in Florida where it now has 167 locations.
According to the South Florida Business Journal and Convenience Store News, Florida is set to surpass both Pennsylvania and New Jersey in the number of Wawa locations by 2021.
"We are continuously launching new products and food service items," Wolf said. "Our combination of a wide variety of food service items, services like fuel and surcharge-free ATMs and our family-like culture make us more than a typical convenience store retailer.
"We've had customers get married in our stores, plan their trips based on the Wawa stores along the route, and call and write to tell Wawa its store are what they miss most after moving away from the region.
"We've even received photos of people with Wawa tattoos," Wolf added. "We are humbled by the customer response to our brand and the special relationship we have with the community."