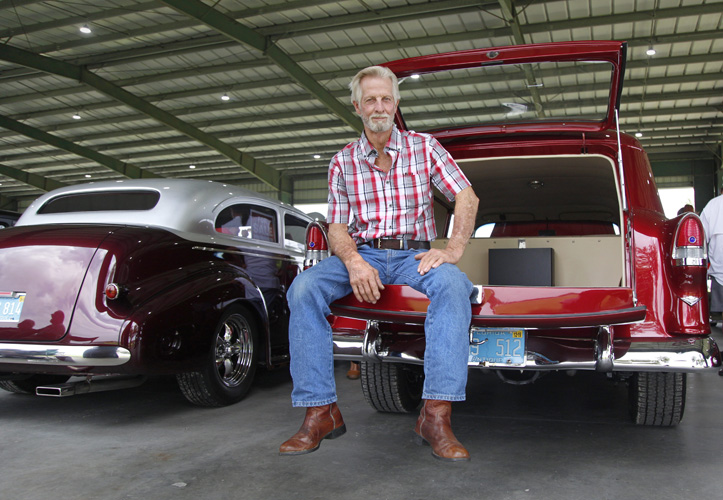 Lovingly polished to perfection, roughly 130 cars were recently on display at the Indian River County Fairgrounds for a Centennial edition of the Vietnam Veterans of Indian River County's ninth annual Car Show to support veterans' assistance programs and housing.
"We've had it at the Elks Lodge on Father's Day for eight years and we moved it to here for the Centennial because of the venue; they were gracious enough to supply it for us," said event organizer Craig Waskow, a Vietnam veteran and Elks Lodge member. "We're open to anything: antique, classic, modern-day cars. Anything that people enjoy driving."
For the benefit of the cars, owners and visitors alike, the unique beauties were parked out of the sun – some in the outdoor Expo Pavilion and others in the air-conditioned Expo Exhibition Center.
Vehicles included everything from a jazzy 1923 Ford T Rocket perched atop a 1927 Chevrolet Car Hauler, to modern-day Corvettes, with original, restored, modified and even home-built designs in the mix. Cars with vibrantly colored exteriors sat beside glossy classics with gorgeous hood ornaments and flashy headlight caps; the sharp tailfins of yesteryear Cadillacs alongside 'horseless carriages' with rumble seats and running boards.
Asked if he had a favorite – other than his own bright red 1970 Buick Skylark convertible – Waskow said diplomatically, "I'm not partial to anything really; I like them all. I appreciate them for all their values, all their uniqueness and what they represent. I think what we have here today, with the exception of maybe half a dozen, the cars are all American."
Tim Nightingale, VVIRC president, said he hadn't picked a favorite either, adding, "I worked for General Motors for 32 years so anything General Motors works for me."
Commenting on some of the programs the event would help fund, Nightingale said, "Presently we've got 16 beds that we put vets up in to keep them off of the streets; we've got three different houses right now. We work with Every Dream Has a Price and manage the housing and also help with the funding. We also have what we call a Vet Court (Veterans' Treatment Court)."
Nightingale explained that Judicial Circuit Court judges assign a veteran to mentor and assist other vets accused of non-felony related crimes, helping them to get their lives back on track.
Waskow estimated that there are currently between15,000 and 17,000 veterans living in the county, with the majority now from the Vietnam era. VVIRC meetings are generally held the first Wednesday of the month at their offices at 696 8th Court. New members are always welcome.
For more information, visit VVIRC. org.
Photos by: Kaila Jones
Click HERE to see more or buy photos