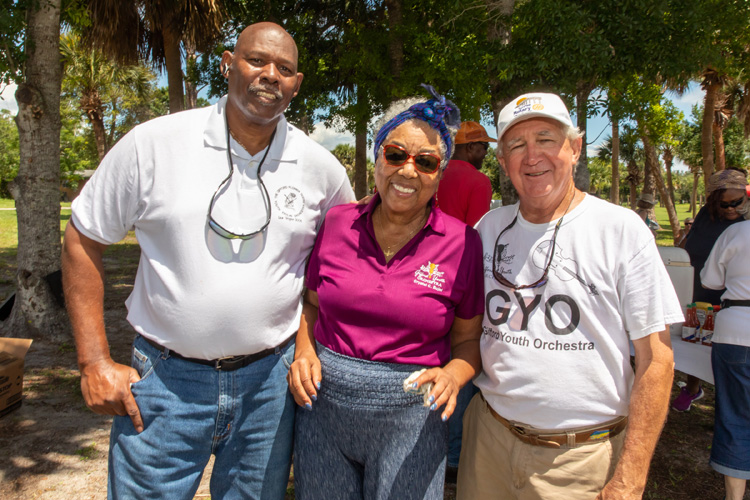 The enticing aroma of barbecued ribs, chicken and fried fish permeated the dense summer air at the Martin Luther King Park in Gifford, as members and supporters of the Gifford Youth Orchestra gathered recently for a Community Barbecue and Fish Fry to raise funds and awareness.
"We wanted to bring everyone together to enjoy the day and learn about our wonderful student musicians. Last year we had a small fish fry but this year we decided to introduce barbecue," said Crystal Bujol, GYO artistic director.
She noted that thanks to the generosity of event sponsor Charlotte Terry Real Estate, which enabled the purchase of ribs and chicken, Rhonda's Seafood, which donated the fish, and C.J. Walker and Larry Wilson, who donated their time to cook the mouthwatering entrees, 100 percent of the proceeds would benefit the Gifford Youth Orchestra.
Picnic tables placed strategically under the shady oaks provided the perfect place to relax and enjoy the delicious food, music by DJ Mike Baisden and the camaraderie of those who support and encourage the youths to use music as a stepping stone to life.
Bujol started the Gifford Youth Orchestra, also affectionately known as the College of Performing Arts, in 2003 to teach music to Indian River County children whose families could not afford lessons or instruments.
Children are provided with a stringed instrument or access to a piano as well as lessons, all at little or no cost. Students also learn how to perform on stage and become poised public speakers with the Jr. Toastmasters, gaining confidence and leadership skills that they can carry with them for the rest of their lives.
"Music is a building block that empowers students to step up in all their other classes," said Bujol. "All our students who've been with us until high school graduate, and have either enrolled in or graduated from college. They ultimately become responsible people who get on in the world."
Alonzo Phillips, a Christian rapper professionally known as Top Notch 772, came to the event to support the orchestra and its students.
"I was raised in Gifford and I'm here to support my people," said Phillips, whose inspirational music is now streamed on many music platforms. "I think the Gifford Youth Orchestra is a huge blessing to these young musicians, as music can be their ticket out of a life of poverty. The program gives them the confidence and people skills to succeed in life."
Board member George Blythe said that many of the former students return from college to mentor and teach the younger students during their summer breaks.
"These kids are so talented that they've been invited to perform at the prestigious Mike Block String Camp public concerts," said Blythe. "In addition to purchasing instruments, some of the funds from this barbecue will go towards scholarships to this camp."
Deemed 'the ideal musician of the 21st century' by Yo-Yo Ma, cellist Mike Block and a cadre of world-famous musicians teach workshops for string players with a focus on contemporary musical styles and an emphasis on creativity and learning by ear. The concerts take place July 10, 12 and 13 at First Presbyterian Church of Vero Beach.
Photos by: Denise Ritchie
Click HERE to see more or buy photos