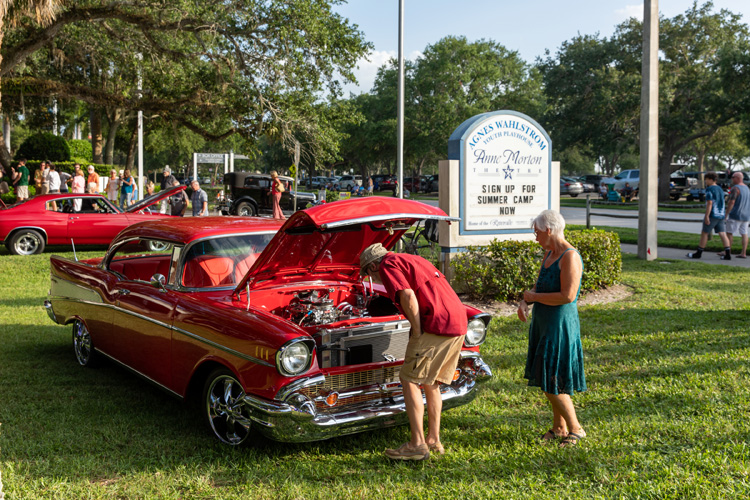 "Rock 'n' Roll is here to stay" – and so are classic cars. Both were enjoyed last weekend at the second annual Doo-wop Concerts and Classic Car Show at Riverside Theatre, held in conjunction with a rock 'n' roll-themed Howl at the Moon Experience in the Waxlax Theatre.
With even early-evening temperatures hovering near the 100-degree mark, folks were literally 'sweating to the oldies' outside at Riverside's Live in the Loop free concerts, which featured the bands Johnny & the Blaze Friday night and Doo Wop City Saturday night, before heading into the air conditioning for more rocking and rollicking with entertainment by pianists Rob Volpe and Rhoda Johnson, and drummer Mark Hagan.
As Garrett Schiefer, Riverside Theatre promotions director, directed arrivals to the coveted shady spots, he said that they were expecting about 30 cars, ranging from antiques and classics to current day sports cars.
"People love the doo-wop music and come out just for that; the classic cars are just a little bonus," said Schiefer. "Classic cars are 20 years or older, but we are accepting other cool cars too. It's just a fun event."
A retro 'drive-in' menu even included yummy soda fountain favorites with a grown-up twist – ice cream floats spiked with vanilla vodka – all topped, of course, with whipped cream and a cherry.
"Summers are cooler at Riverside Theatre," laughed Jon Moses, Riverside's managing director/COO. "It's going to be a hot one, but it's going to be cool here. Usually about 1,000 people a night turn up for these events."
He noted that beginning July 5 and continuing for four weekends in July, the lobby is going to be filled with people attending Vegas Nights prior to their alternating Howl at the Moon and Comedy Zone Nights, with casino game proceeds benefiting the Riverside Theatre for Kids Discount Tuition Program. The music changes in August to the Jimmy Buffet-style Cheeseburgers in Paradise events the weekends of Aug. 9-10 and 16-17.
For more information, visit riversidetheatre.com.
Photos by: Denise Ritchie
Click HERE to see more or buy photos