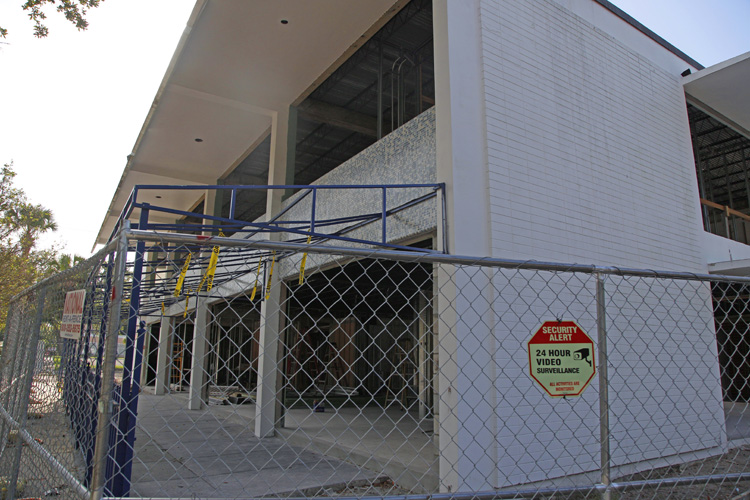 An 8,000-square-foot structure at 2205 14th Avenue is undergoing a $1.5 million renovation that will result in a sleek, sophisticated office building expected to house 70 business and financial services workers who city officials say will bolster the downtown economy.
Built in 1963 on the site of the old Hibiscus Building, the structure is located on a quarter-acre lot across from Pocahontas Park, next door to the Old Indian River Courthouse. City Manager Monty Falls says it has been occupied by many businesses over the years, including a restaurant, a computer business, an engineering firm and a café called Beach Bums.
Beginning this fall sometime, the remodeled building, which has clean lines and an attractive mosaic tile façade on two sides, will be home to Blue Dog Business Services, a company that provides non-cash payment processing support for 6,000 customers. Clients range "from small mom-and-pop businesses to multi-location, multimillion-dollar companies," according to Vero Beach entrepreneur Ron Dichter, who founded the company in 2010.
Dichter is moving his business from the TransOcean Office Center on the island because his growing staff – currently 45 employees – are literally tripping over each other, and he couldn't find another suitable beachside location that didn't have parking problems.
The mainland offered more viable options and Dichter liked the idea of preserving and reusing a building with historic value. Plus, the new location comes with a 28-space parking lot.
Dichter purchased the property from the Graves family for $825,000 in October 2018; enlisted Haydn Curtis of Donadio and Associates Architects, P.A. to design the project; and chose general contractor Bill Bryant and Associates, LLC for the construction.
Bryant pulled a permit in January and work got under way this spring. Dichter said the job is progressing on schedule and explained that "it will be built to LEED standards, and be and ADA compliant, of course."
LEED stands for Leadership in Energy and Environmental Design, a program run by the U.S. Green Building Council that is the most widely used green building rating system in the world.
Dichter and Bryant pointed out state-of-the-art structural, environmental and safety features that are being incorporated into the project, including all LED bulbs; a new full-building sprinkler system; a new membrane roof; state-of-the-art cubicles; new impact glass throughout; low flow toilets; water bottle fillers to avoid plastic waste; and zero VOC paint.
Dichter figures he will have about $2.3 million in the building, including purchase of the property, "when it's all said and done."
He says Blue Dog will be a good neighbor and a boon to the downtown economy on several levels. He is currently hiring and expects to have 70 employees on board by the end of 2020. He says salaries at the company range from $35,000 "to high six-figures."
Those employees, many of whom will be hired locally, will be eating lunch at downtown restaurants, shopping in downtown stores and taking advantage of downtown activities.
Falls says the city is fortunate to have "captured a business" such as this. He believes the infusion of so many employees will be a major economic benefit. "We're excited."
"It's a great looking building and there is plenty of parking" says City Councilman Bob Brackett. "I'm excited about the move; it'll be a great asset for downtown."