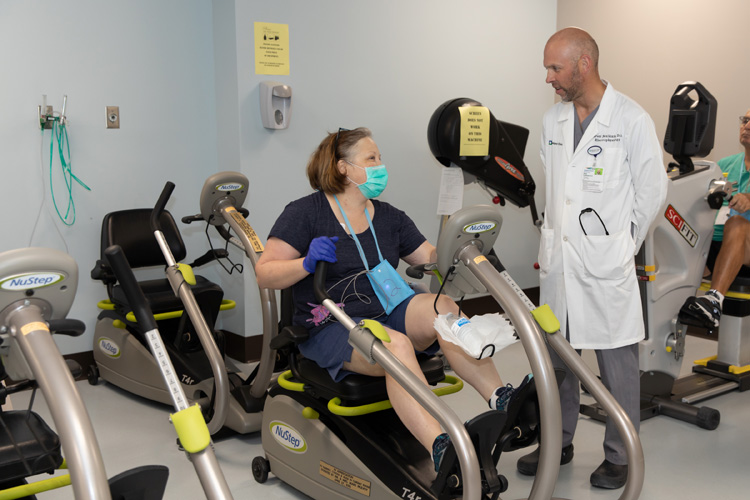 Vero Beach's Paige Jerome had a change of heart last March.
Literally.
On March 15 this 47-year-old mother, educator and art lover underwent a seven-hour operation at Cleveland Clinic Weston just days after walking into the emergency room at Cleveland Clinic Indian River Hospital thinking she had "a touch of bronchitis" and might need a course of antibiotics to clear that up.
It turns out she needed much, much more.
She needed a heart transplant.
Heart transplants are not an everyday occurrence. The United Network for Organ Sharing says only about 3,500 are performed each year worldwide.
In its simplest terms, a heart transplant is surgery to remove a diseased heart from a person and replace it with a healthy one from an organ donor.
But the procedure is, of course, anything but simple.
Aside from an incredibly delicate and complex surgery, heart transplant patients also face the risk their own body will reject the new organ.
Johns Hopkins Medical says that rejection "is your body's normal reaction to a foreign object or tissue. When you get a new heart, your immune system reacts to what it sees as a foreign threat and attacks the new organ. To allow the transplanted organ to survive in a new body, you will need to take medicines. The medicines will attempt to trick the immune system into accepting the transplant" instead of attacking it.
Moreover, Hopkins points out, "you will need to take the medicines to prevent or treat rejection for the rest of your life. These drugs have side effects too. The side effects will depend on the specific medicines you take."
So how did "a touch of bronchitis" turn into an urgent need for a heart transplant?
It didn't.
What Jerome thought was bronchitis was quickly diagnosed by Dr. Brett Faulknier and Dr. Babar Shareef at the Vero Beach ER as "giant cell myocarditis," a rare cardiovascular disease that occurs for unknown reasons. It is characterized by inflammation of the heart muscle and is a rapidly progressing, frequently fatal disease.
And progress it did. Extremely rapidly.
Today Jerome has effusive praise for the emergency department team that spotted the problem in time to save her life, including the doctors, nurses and technicians.
In March, after Vero ER personnel diagnosed her condition and it was decided she needed a new heart, she was transported to Cleveland Clinic Weston by ambulance because, as she explains, "they were concerned that my condition was so poor at the time.
"If you go in the air," she says, "you can't pull off on the side of the road to [perform emergency procedures]. It's different. You've got to be able to land first and be near a place where you can do that safely."
Once she'd made the two-hour drive south to Cleveland Clinic Weston, members of the Weston transplant and heart failure team, including Drs. Cedric Sheffield and Viviana Navas, took over. One week after walking into the Vero ER with what she thought was bronchitis, Jerome had a new heart.
And more new friends.
Speaking about the Weston staff, Jerome can barely contain her enthusiasm. "Oh my gosh, they are good. I want to go back and see them all and I honestly wouldn't forget their names. I can tell you that they're just amazing."
And, speaking of amazing things, when Jerome's favorite artist, Fabio Napolioni, whose daughter was born with a hole in her heart, got wind of this self-described "super social" woman's ordeal, he took brush in hand and, as Jerome says, "did an original [piece of art] for me when I was in the hospital: it's my old heart going off, with this bird, his name is Blue, and he's taking the old broken heart away and then he's putting the new heart in."
Today, just weeks after that heart transplant, Jerome appears to be on track for successful recovery. She has started cardio rehab here in Vero and seems to be rapidly regaining her strength.
She didn't need to regain her enthusiasm or 'joie de vie.' Those never left her. She hopes to return to full-time work in mid-September.
That's the "heart" of Paige Jerome's story.